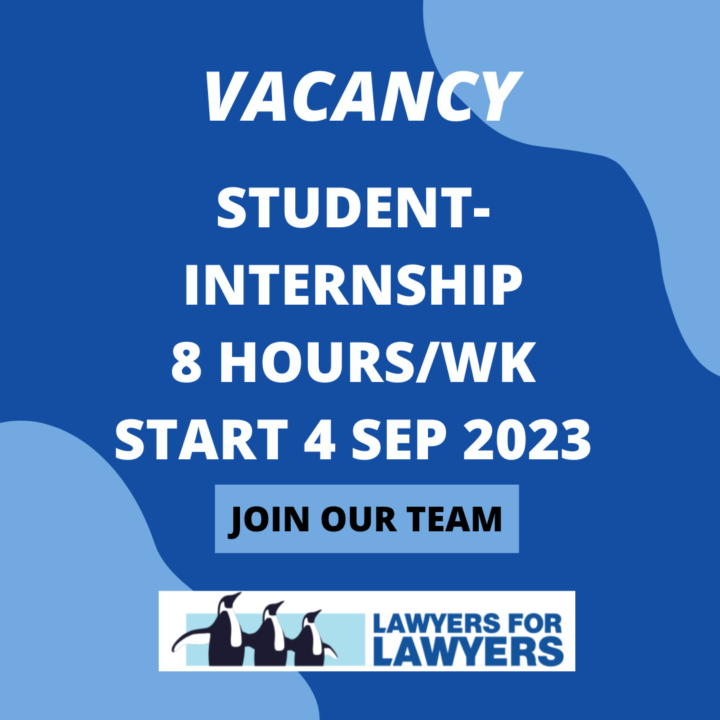 5 June 2023
Vacancy student-internship
On average 8 hours/wk, from 4 September 2023
Do you want to make a difference for endangered lawyers standing up for the rights of others? Do you want to learn how an NGO works and build a network with lawyers from small and large firms? And do you want to do that in a young, dynamic and enthusiastic team with projects with an international focus? Then read on!
Lawyers for Lawyers (L4L) stands up for endangered lawyers. We help lawyers to perform their duties as guardians of the rule of law freely and independently and are committed to preventing or ending prosecution of lawyers. L4L consists of a strong board, a small office and a network of about 70 lawyers in the Netherlands (divided into focus groups focusing on certain countries/parts of the world), who voluntarily stand up for more than 150 colleagues around the world.
What will you do?
We are looking for a total of four interns for a number of focus groups. Each intern will collaborate on the different actions in these areas and provide facilitative support to the focus groups:
Preparing and attending focus group meetings (plans, minutes, action points)

Conducting research on the position of lawyers and establishing and expanding our network in the focus country;

Following up on what was agreed in the focus group meeting, including drafting letters, updating country pages and collaborating on contributions to the UN;

Speaking to lawyers from abroad in the Netherlands and putting them in touch with our network if required.
What do we ask of you?
You have an affinity with the work and mission of Lawyers for Lawyers;
You are eager to learn, result-oriented, analytical and can work independently;
You enjoy doing research and analysing data
You have experience in organising events and can plan well;
You are attending university (or doing a gap year), preferably in the field of international public law/human rights
You have good (business) writing skills in English;
Knowledge of a third language such as French, Spanish, Russian or Arabic is appreciated;
Prior knowledge of the subjects is not required, interest of course is!
What do we offer you?
The chance to contribute to an important international project, which is valuable for the organisation and has a positive impact on the world;
The chance to familiarise yourself with practical tools and policies within NGOs;
The chance to establish contacts with different lawyers and law firms;
The freedom to work independently;
A friendly team with an informal atmosphere;
Good supervision in which we actively coach you.
Interested?
Does this internship appeal to you? You can start from 4 September 2023 for 4-6 months for 8 hours a week. You will work from our office at the University of Amsterdam on Roeterseiland. You will be in the office at least half a day a week. The remaining hours can be arranged flexibly. Meetings will take place both online and in person. Please send your cover letter and CV to info@lawyersforlawyers.nl before 25 June 2023. You can also contact us with any questions about the vacancy.