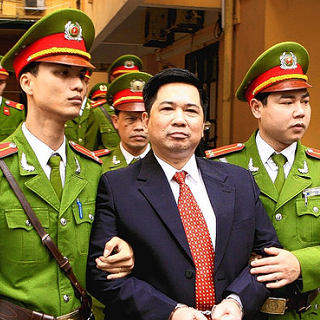 3 May 2011
Vietnam Cù Huy Hà Vu convicted to 7 years in prison
Vietnamese lawyer and activist Cù Huy Hà Vũ was convicted to a 7 year prison sentence and an additional 3 year house arrest on 4 April 2011. He was charged with "propaganda against the Socialist Republic of Vietnam" under article 88 of the Criminal Code, an offence he allegedly committed by giving interviews to foreign media. In those interviews he advocated democratic reforms and called for a multiparty-system in Vietnam.
On 9 March 2011, Nguyễn Văn Đài was released from prison after completing a four year sentence. This meant however that his house arrest, an additional punishment that was inflicted upon him when he was convicted in 2007, commenced. Nguyễn Văn Đài was convicted in March 2007, together with lawyer Lê Thị Công Nhân, for the same offence (article 88) as the abovementioned Cù Huy Hà Vũ. They too had said things in interviews with foreign media that compelled the authorities to seek criminal prosecution. Both are well known dissidents in Vietnam and acted as lawyers for inter alia persecuted Protestants.
L4L organized a letter writing campaign to make clear to the authorities in Vietnam that the arrest and house arrests contradict internationally recognized rights as well as the ambition of the Vietnamese government in increasing the respect for human rights (see these example letters).
See for more information on the international obligations that rest upon Vietnam and the ambition that the Vietnamese government has expressed in the context of the Association of South-East Asian Nations (ASEAN) this report by the Vietnam Committee on Human Rights (Quê Me).