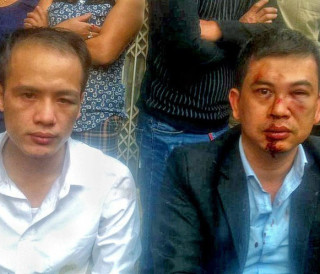 27 November 2015
Human rights lawyers Tran Thu Nam and Le Luan attacked
On 3 November 2015, human rights lawyers Mr Tran Thu Nam and Mr Le Luan were attacked and beaten by eight masked men. Lawyers for Lawyers has reason to believe that Tran Thu Nam and Le Luan were targeted in connection to their legitimate activities as attorneys.
When the eight masked men on motorcycles attacked the Tran Thu Nam and Le Luan, the lawyers tried to escape, but were caught and beaten. They recognized one of the attackers as a local police officer. Tran Thu Nam and Le Luan sustained several injuries, including to their faces, and received medical treatment in the local hospital.
Tran Thu Nam and Le Luan are Hanoi-based human rights lawyers providing legal support to the victims of police brutality and other human rights abuses by the authorities. Currently they are supporting the family of Do Dang Du, who died on 10 October 2015 in police custody after being held there for two months on a charge of theft. The lawyers questioned the validity of the autopsy carried out on Do Dang Du's body as it failed to include an examination of internal organs, which could prove that he died as a result of injuries sustained in a beating.
The attack happened right after the human rights lawyers had met with the family of Do Dang Du to discuss further steps in the legal proceedings regarding his death in police custody. Do Thi Mai, Du's mother, witnessed the attack.
Furthermore, on the morning of 12 November 2015, police officers arrested lawyer Tran Vu Hai and detained him at the Xuan La police station. Tran Vu Hai was part of a larger group of lawyers who planned to visit relevant government offices to submit, amongst others, letters regarding the attack on Tran Thu Nam and Le Luan. Tran Vu Hai was released after 13 hours.
Lawyers for Lawyers called on the Vietnamese authorities to make sure that a prompt, thorough, impartial and transparent investigation into the attack on lawyers Mr Tran Thu Nam and Mr Le Luan will be carried out.