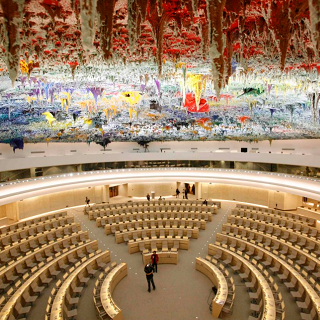 18 June 2013
Vietnam L4L files UPR submission
L4L has, together with Lawyers Rights Watch Canada (LRWC) and the Law Society of England and Wales, filed a Submission for the Universal Periodic Review (UPR) of Vietnam with the United Nations Human Rights Council.
The situation for human rights lawyers in the Vietnam leaves a lot to be desired. L4L was able to make detailed recommendations, partially thanks to the contacts the organization maintains with leading human rights lawyers in the country.
The 'Submission' particularly emphasizes the obligations of the Vietnamese authorities in respect of the Basic Principles on the Role of Lawyers (hereafter: Basic Principles). Reports gathered by L4L, LWRC and The Law Society, and information received from lawyers in Vietnam, demonstrate that the Vietnamese government does not always uphold the necessary guarantees for the proper functioning of the legal profession as set out in the Basic Principles. As a consequence, lawyers encounter difficulties in carrying out their professional responsibilities and experience onerous impacts on their personal lives.
Over the last years numerous Vietnamese lawyers engaged in human rights cases were intimidated, hindered and harassed by the Vietnamese government. A number of high profile human rights lawyers have been subjected to malicious prosecutions and arbitrary detention. It is common for such prosecutions to result in sentences of many years imprisonment, up to twelve years. Furthermore, no independent Bar Association has been established in Vietnam to protect the targeted lawyers. Both the harassment of lawyers and the lack of an independent Bar Association present violations of the Basic Principles.
The actual review of Vietnam will take place in January/February 2014.
* L4L recently launched broad campaigns on behalf of the Vietnamese lawyers Le Quoc Quan and Le Cong Dinh. Click here for more information.