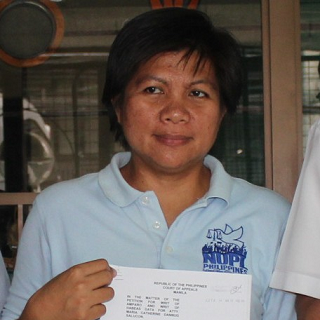 15 maart 2015
Verzoek tot bescherming advocaat ingewilligd door Hof
Op 12 maart 2015 heeft het Filippijnse Hooggerechtshof het verzoek voor een zogeheten 'Writ of Amparo' van mensenrechtenadvocaat Maria Catherine Dannug–Salucon ingewilligd. Dit is de eerste keer dat een dergelijk verzoek is toegekend aan een bedreigde advocaat.
De Writ of 'Amparo' – Spaans voor 'bescherming'- is een rechtsmiddel dat kan worden ingezet voor de bescherming van slachtoffers van mensenrechtenschendingen, waaronder bedreigingen.
Door het verlenen van het verzoek tot bescherming gaf het Hof de veiligheidstroepen de opdracht om "zich bijzonder in te spannen om  Salucon en haar directe familie te beschermen".
Salucon diende het verzoek om bescherming in nadat zij in april 2014 merkte dat zij onder vergaande surveillance van militaire veiligheidsdiensten stond. Deze surveillance was bijzonder verontrustend gelet op het feit dat Salucon's juridisch medewerker, William Bugatti, op 25 maart 2014 – naar verluidt door leden van diezelfde veiligheidsdiensten – werd vermoord.
Salucon's naam zou ook voorkomen op de militaire lijst van personen die een bedreiging vormen voor de staatsveiligheid vanwege haar juridische dienstverlening aan zogeheten communistische terroristen.
Lawyers for Lawyers en Lawyers' Rights Watch Canada (LRWC) waarschuwden President Aquino van de Filipijnen herhaaldelijk voor de praktijk van het leger om advocaten als staatsvijanden te bestempelen. Deze praktijk wordt als een van de hoofdoorzaken beschouwd van het grote aantal buitengerechtelijke moorden in de Filippijnen sinds 2001.
Lawyers for Lawyers verwelkomt de beslissing van het Hof van Beroep, en zal de situatie van advocaten in de Filippijnen nauwlettend blijven volgen.
Meer nieuws uit Philippines