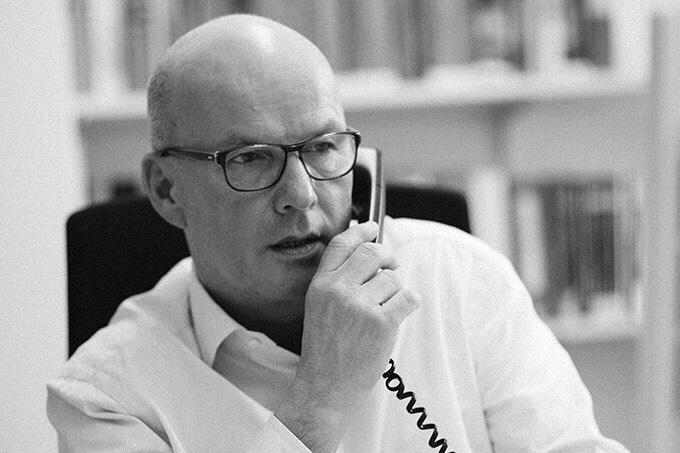 22 augustus 2019
Gulle Gevers
Mick Veldhuijsen ondersteunt L4L met overtuiging:
,,Laat een advocaat maar eens uitleggen waarom hij níet doneert"
Tekst: Johan van Uffelen
De stichting Lawyers for Lawyers steunt voor haar activiteiten volledig op giften. Dat waarborgt onze onafhankelijkheid. Maar tegelijk zijn we natuurlijk afhankelijk. Van gulle gevers; kantoren en individuele donateurs. We plaatsen ze af en toe graag voor het voetlicht. Niet om goede sier te maken met hun ondersteuning, maar wel om hun motivatie te laten klinken. En natuurlijk; Ter inspiratie van anderen.
Zo ontvingen we een mooie gift van Mick Veldhuijsen, werkzaam als advocaat/mediator bij VSVW Advocaten in Naarden. Zijn primaire antwoord op de vraag waarom hij doneert, is kort en krachtig: ,,Laat een advocaat maar uitleggen waarom hij dat níet zou doen". Om te vervolgen: ,,Wij, en niet alleen advocaten natuurlijk, hebben het zo verrekte goed hier, dat je wel moet helpen als mensen vervolgd worden om wie zij zijn of wat zij doen. En dat geldt natuurlijk helemaal voor vakbroeders, in dit geval advocaten. Advocaten die de rechtsstaat willen beschermen en mensen bijstaan die in het nauw worden gedreven".
Je kent Lawyers for Lawyers al lang?
,,Ja al heel lang. Ik denk via het Advocatenblad"
In plaats van een overschrijving naar L4L had je ook voor jezelf een retourtje Malediven kunnen boeken..
,,We hebben het zo rijk hier, dat ik me dat niet hoef te ontzeggen. Mijn hulp aan bedreigde advocaten is al beperkt en bestaat uit doneren. Ik vind dat iedere zichzelf respecterende advocaat die zijn beroep en rol in de samenleving serieus neemt, moet doneren. We spelen een cruciale rol in de rechtsstaat en dus steun je collega's van wie het functioneren wordt belemmerd of onmogelijk wordt gemaakt".

Mick Veldhuijsen (1962) studeerde aan het London College for Communication en behaalde zijn doctoraal rechten aan de universiteit Utrecht. Hij werkt nu bij VSVW Advocaten in Naarden als advocaat/mediator. Belangrijkste nevenfuncties; docent en bestuurslid bij de Stichting Beroepsopleiding Advocaten, bestuurslid van de M.C. Escher Foundation en lid van de Raad van Discipline Arnhem-Leeuwarden.