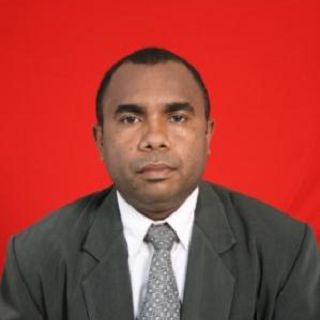 18 september 2014
Mensenrechten advocaat Gustaf Kawer loopt risico op arrestatie
De regionale politie van Papua heeft een onderzoek ingesteld naar de mensenrechten advocaat Gustaf Kawer, in verband vermeende met "misdaden tegen het openbaar gezag". Deze aanklacht, krachtens artikel 211 en 212 van het wetboek van strafrecht, verwijzen naar gebeurtenissen die zouden hebben plaatsgevonden tijdens een rechtszitting in juni 2014, waar hij optrad als advocaat. Als hij wordt vervolgd en schuldig wordt bevonden, kan Kawer veroordeeld worden tot vier jaar gevangenisstraf.
Op 22 augustus 2014 werd Kawer opgeroepen door de regionale politie van Papua om te getuigen. Hoewel de autoriteiten meedeelden dat de zaak betrekking had op dwang en opstandigheid, werd verder geen informatie verstrekt. Nadat hij arriveerde werd het duidelijk dat de zaak geopend was tegen Gustaf Kawer zelf. Op 5 juni 2014 had Gustaf Kawer de rechtbank om uitstel van een hoorzitting op 12 juni 2014 verzocht, in opdracht van zijn cliënt. Op de zitting van 12 juni, heeft de rechtbank besloten om het uitstel niet te verlenen en werd de zitting voortgezet in afwezigheid van Gustaf Kawer en zijn cliënt. Bij zijn aankomst op rechtbank, protesteerde Kawer hiertegen, op de grond dat de rechter op verzoek van de wederpartij, de overheid, al drie keer uitstel van de zittingen had toegestaan. Naar verluidt werd Kawer gevraagd de rechtszaal te verlaten als hij het ​​niet eens met de beslissing van de rechtbank; hierop verliet Kawer de rechtszaal.
Op 17 september 2014 bezocht een in burger geklede politieagent het huis van Gustaf Kawer om een dagvaarding af te leveren in verband met zijn acties tijdens de zitting op 12 juni 2014. Omdat Gustaf Kawer afwezig was, weigerde zijn vrouw om de dagvaarding te accepteren, en drong zij erop aan dat deze niet aan haar bezorgd kon worden. Naar verluidt probeerde de agent tevergeefs om foto's van Gustaf Kawer's vrouw te nemen, en bleef hij voor een tijd in de buurt van het huis om foto's te nemen. Kawer moest zijn huis voor een tijdje te verlaten vanwege het risico van mogelijke arrestatie.
Gustaf Kawer begon zijn werk bij de Papuan Legal Aid Foundation (LBH) in 2000, waar hij met name arbeidsrechten, landrechten en socio-politieke rechten verdedigde. Hiernaast nam Gustaf zaken op zich die betrekking hadden op aanvallen op politiebureaus. In één van die zaken (de Apebura-zaak) vonden een politieman en vier burgers de dood en werden in de  nasleep twee studenten doodgemarteld. Sinds hij een master in Vrede en Conflictbeslechting afrondde in Yogyakarta in 2008, werkt Gustaf als Litigation Coordinator voor de Civil Society Coalition for the Rule of Law and Human Rights.
In 2013 was hij, samen met zijn collega Olga Hamadi, derde op de shortlist van de jury voor de Lawyers for Lawyers Award 2013. Lawyers for Lawyers zal de zaak tegen Gustaf Kawer op de voet blijven volgen.
Meer nieuws uit Indonesia