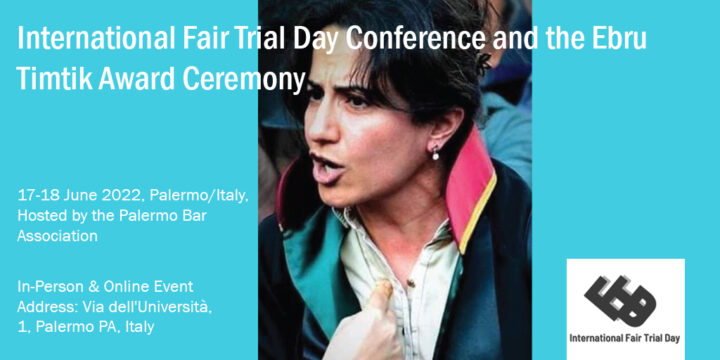 16 juni 2022
International Fair Trial Day Event on 17-18 June 2022
Lawyers for Lawyers is happy to share the agenda for the event on 17-18 June 2022 for the second International Fair Trial Day. The focus country of this year's International Fair Trial Day is Egypt.
In 2021, an annual International Fair Trial Day was established with a steering group, and the event was supported by more than 100 legal associations. The first conference was held as a virtual event on 14 June 2021 with a focus on fair trial rights in Turkey. It was agreed that in each subsequent year a new focus country where fair trial rights are being challenged would be chosen as the focus country. The Steering Group also decided to establish an Ebru Timtik Award, in recognition of her sacrifice for the right to a fair trial. This award will be granted every year to an individual and/or an organisation from the focus country chosen for that year for the International Fair Trial Day or to an individual and/or an organisation who has been active in defending and or promoting the right to a fair trial in that specific country. An International Fair Trial Day Alliance was also formed among prominent bar associations and lawyers' organisations across the world which support the initiative.
On 17 June, two panels will be hosted. The first will discuss the situation in Egypt more broadly. At this panel the following pannelists will speak: Mahienour El-Massry (human rights lawyer and activist), Bahey eldin Hassan (human rights defender, Director of the Cairo Institute for Human Rights Studies) and Antonio Mazzeo (journalist and researcher). The panel will be moderated by Tony Fisher (Law Society England and Wales). During the second panel Barbara Spinelli (human rights lawyer) and Patrick Zaki (human rights researcher) will discuss the Patrick Zaki case, moderated by Michelle Calantropo (Palermo Bar Association and European Bar Association).
On 18 June, the event will kick off with a video message from the UN Special Rapporteur for Human Rights Defenders, Mary Lawlor and a keynote speech by prof. Philippia Webb of King's College London. Thereafter, a panel discussion with international experts Baroness Helena Kennedy QC (IBAHRI) Giuseppe Acconcia (journalist and researcher), Saïd Benarbia (ICJ) will be held, moderated by Jacqueline Scott. The day will end with the award ceremony for the 2022 Ebru Timtik Award Selection Committee, which will be moderated by Edmond Claude Frety (Human Rights Commission of the Paris Bar Association).
Full bios for all the speakers of the event can be found here.
To join online, you can register for the 17 June 2022 event here and for the 18 June 2022 event here.