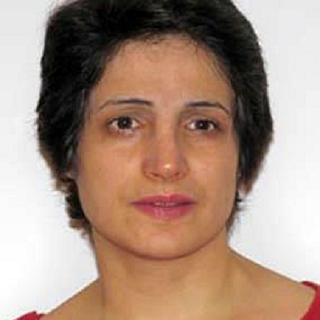 10 januari 2011
Iran Nasrin Sotoudeh veroordeeld tot 11 jaar gevangenisstraf
De Iraanse advocate Nasrin Sotoudeh, die sinds september 2010 gevangen zit, is op 9 januari 2011 veroordeeld tot een gevangenisstraf van maar liefst 11 jaar. Bovendien mag ze haar vak niet uitoefenen of reizen gedurende 20 jaar. Ze kreeg 5 jaar voor het vermeende handelen tegen de nationale veiligheid, nog eens 5 jaar voor het niet dragen van een hejab (Islamitische jurk c.q. hoofddoek) in een gesprek dat werd vastgelegd op video en 1 jaar voor propaganda tegen het regime. Hiermee is de straf inderdaad hoger uitgevallen dan 10 jaar; haar ondervragers zouden Sotoudeh gezegd hebben dat ze een lagere straf niet zouden accepteren.
Nadat de straf bekend werd, werd haar echtgenoot Reza Khandan gesommeerd zich te melden bij de openbaar aanklager in de Evin gevangenis. Toen hij zondag 16 januari 2011 aan die oproep gehoor gaf werd hij gearresteerd. Het is onbekend wat hem ten laste wordt gelegd, maar vermoed wordt dat zijn arrestatie te maken heeft met zijn uitlatingen in de pers, die hij deed in een poging zijn vrouw vrij te krijgen.
Nasrin Sotoudeh stond vele mensenrechtenactivisten bij die na de presidentsverkiezingen in juni 2009 werden opgepakt. Ook verdedigde ze Shirin Ebadi, de mensenrechtenadvocate en Nobelprijswinnares die het Documentation Center for Human Rights mede oprichtte. De veroordeling staat niet op zich; in 2010 werden de advocaten Mohammad Olyaeifard, Shadi Sadr en Mohammad Seifzadeh ook tot gevangenis- en/of lijfstraffen veroordeeld, en werden nog eens 9 advocaten opgepakt en ondervraagd of voor langere tijd vastgehouden.
Een aantal leden van verschillende fracties bij het Europees Parlement hebben een gezamenlijke ontwerpresolutie ingediend over de situatie in Iran, de vervolging en veroordeling van onder andere Nasrin Sotoudeh en de systematische vervolging van advocaten en mensenrechtenactivisten.
Sotoudeh heeft drie keer door middel van een hongerstaking geprotesteerd tegen haar oneerlijke proces. Op 20 december 2010 was ze met de derde hongerstaking gestopt omdat haar gezondheid teveel in gevaar kwam. Vanwege de wanhoopsdaad van Sotoudeh heeft L4L in december 2010 opnieuw een schrijfactie georganiseerd. Eerder was L4L ook al voor Sotoudeh in actie gekomen, in september en oktober 2010.