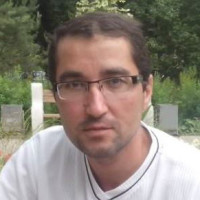 26 mei 2020
Jamshed Yorov: continues to raise the voice of his imprisoned brother
26 May marks Lawyers Day in Tajikistan. On this day, lawyers in Tajikistan celebrate the establishment of the national Bar Association. In order to draw attention to this important day for the independent Tajik legal community, Lawyers for Lawyers has interviewed lawyer Jamshed Yorov about Lawyers Day in Tajikistan, the current situation for lawyers in the country and his brother Buzurgmehr Yorov, who has been sentenced to 22 years in prison in connection to his work as a lawyer.
Is Lawyers Day recognized by the government of Tajikistan?
 ,,No. Although a number of special days, such as Shashmakom Day (12 May), Tajik Youth Day (23 May), Grape Day (15 August) and Apple Day (19 September) are celebrated, Lawyers Day is not on the list of national or professional holidays. The government of Tajikistan does not celebrate this day and does not organize any activities for it as they do for other professional or national holidays".
What kind of activities are being organized by Tajik lawyers in the context of Lawyers Day?
 ,,On this day members of the bar associations usually organize meetings and discussions on the problems lawyers in Tajikistan are facing. They also organize festivities such as inviting singers or going out to celebrate".
How does the current situation impact the work of lawyers in Tajikistan in light of the COVID-19 crisis?

,,This crisis is affecting both the level and accessibility to legal aid for the population. Because they are afraid of getting infected, many lawyers are themselves staying at home in self-isolation. Following government recommendations, the head of the Lawyers Union of Tajikistan gave advice to the legal profession to follow strict preventive measures during meetings with clients, consultations and attendance at courts and detention centers".
Buzurgmehr Yorov
Buzurgmehr Yorov is one of Tajikistan's most eminent human rights lawyers, a reputation developed by taking on a number of high-profile legal cases, representing individuals prosecuted by the government of Tajikistan on politically-motivated charges. At the time of his arrest, Yorov had just started to represent thirteen senior leaders of the Islamic Renaissance Party of Tajikistan (IRPT), a group that was later banned in 2015 as a terrorist organisation. Yorov has been sentenced to 22 years in prison in connection to his work as a lawyer.
Earlier this month it was reported that Yorov was suffering from an unexplained fever. How is he doing now?
 ,,Buzurgmehr Yorov is recovering. He feels better now. Sometimes he can call us from prison and give us updates on how he is doing".
How is the current situation of jailed lawyers in Tajikistan? Are prison visits still allowed?
 ,,Meetings with prison inmates are currently forbidden, but they do have the opportunity to make calls to their relatives and those close to them. Buzurgmehr can call me and our relatives at least three-four times per week now".
The importance of international support for lawyers
Lawyers for Lawyers has been campaigning since Yorov's arrest in 2015. In 2018, Lawyers for Lawyers submitted a joint petition with the UN Working Group on Arbitrary Detention on behalf of Yorov. Moreover, since December 2019, Yorov is featured in the #FreeTheLawyers campaign. This campaign aims to provide protective publicity and support to lawyers who are serving long prison sentences, such as Yorov.
Could you explain why international support for lawyers such as Yorov is so important?
,,I think that only constant international support, pressure and discussion about the release of innocently imprisoned lawyers, such as Nuriddin Makhkamov and Buzurgmehr Yorov, will have any impact on decisions of the authorities about reducing their punishment term or even granting them a full release. Tajikistan authorities completely ignore the wishes of their own population, who have been criticizing the imprisonment of Buzurgmehr Yorov and other innocent prison inmates and even advocating their release. These critics can be charged with supporting extremism and terrorism or other offences and be imprisoned themselves. That is why it is necessary to raise these matters during various international meetings, summits and conferences. Release of all political prisoners, including lawyers, must be an indispensable condition of provision of financial aid to the Tajikistan authorities".
Disclaimer: The views expressed in this interview are those of the interviewee and the author and do not necessarily reflect those of Lawyers for Lawyers.
Meer nieuws uit Tajikistan