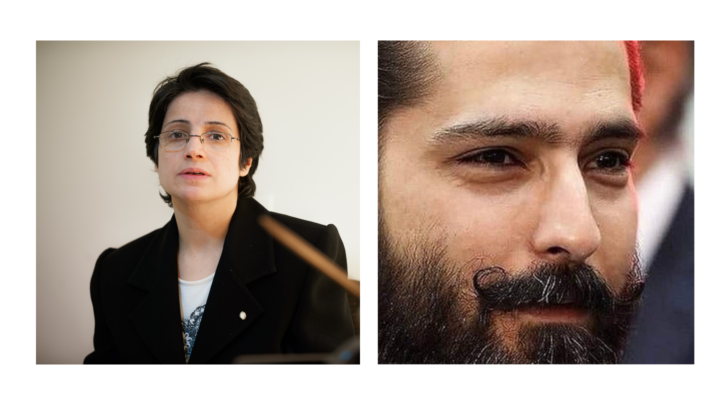 16 september 2020
Joint letter on the continued detention and precarious health situation of Nasrin Sotoudeh and Amirsalar Davoodi
Ms. Sotoudeh is currently serving a sentence of 38 years in prison and 148 lashes on charges of, amongst others, "inciting corruption and prostitution", "openly committing a sinful act by appearing in public without a hijab", and "disrupting public order" in connection  to her human rights work. Mr Davoodi has been sentenced to 29 years in prison, 111 lashes, and a fine of 60 million rials on charges of crimes against national security for his human rights work. Both Ms Sotoudeh and Mr Davoodi are serving their lengthy sentences in Evin Prison.
Ms. Sotoudeh began a hunger strike on 11 August 2020. In a letter detailing her reasons for starting a hunger strike, Ms Sotoudeh has demanded the release of prisoners held for political motives who are at risk of catching Covid-19. On 15 September, Ms Sotoudeh has been on hunger strike for 36 days. According to information we have received, she has been suffering from low blood pressure, fluctuating blood sugar levels, and rapid weight loss.
Furthermore, it was reported that Mr Davoodi has contracted COVID-19 in Evin Prison. This is alarming, since it has been reported that prisoners who have contracted COVID-19 in Evin Prison are not receiving any medical treatment.
Lawyers for Lawyers, the Law Society of England and Wales and Lawyers' Rights Watch Canada urge the Iranian authorities to immediately and unconditionally release Ms Sotoudeh and Mr Davoodi and put an end to all acts of harassment against them, including judicial harassment. Secondly, the authorities are urged to pending such release to take all necessary measures to guarantee their physical and psychological integrity and wellbeing, as well as comply with international standards regarding conditions of detention. Thirdly, the authorities are urged to comply with the international legal obligations of the Islamic Republic of Iran to ensure that members of the legal profession can carry out their professional functions without harassment and improper interference, including judicial harassment.