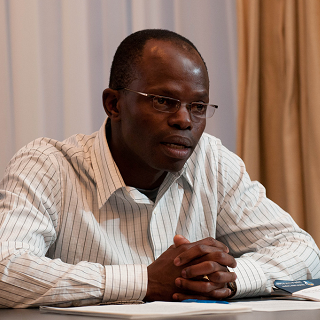 26 januari 2023
Killing of Eswatini human rights lawyer Thulani Maseko
Lawyers for Lawyers received the shocking news that, on 21 January 2023, Eswatini human rights lawyer Thulani Maseko was shot death in his home. This killing was condemned by the Special Rapporteur on the Independence of Judges and Lawyers.
Thulani Maseko was a prominent humn rights lawyer from Eswatini. He was a senior member of Lawyers for Human Rights Swaziland and was one of the founding members of the Southern Africa Human Rights Defenders Network. Thulani further was the chairperson of the Multi-Stakeholder Forum, an umbrella association of civil society organisations, business and trade unions, political parties, faith-based organisations and women's organisations that advocates for a peaceful transition to multi-party democracy in Eswatini. Thulani was committed to promoting justice, peace and human rights in Eswatini.
At the evening of 21 January 2023, Thulani Maseko was shot in front of his family, through the windows of his home. It is not clear who have been the assailants. At the time of his death, Thulani was a legal representative for two members of parliament who were facing trial for offences allegedly committed during the civil unrest in Eswatini in 2021. His murder seems to be an act of retaliation for his work as a human rights lawyer.
In the past, Thulani had been targeted many times for exercising his professional functions as a lawyer. On 17 March 2014, he was detained for "Contempt of Court" after a process in which fair trial principles were reportedly not upheld. On 13 June 2014, Lawyers for Lawyers had sent letters to the Eswatini authorities, to urge Thulani's immediate release. In the case's appeal on 30 June 2015, Thulani was acquitted of all charges and was released after having spent more than one year in prison. Nonetheless, he remained a target after his release.
Lawyers for Lawyers expresses its most sincere condolences and solidarity with Maseko's family, friends and colleagues.