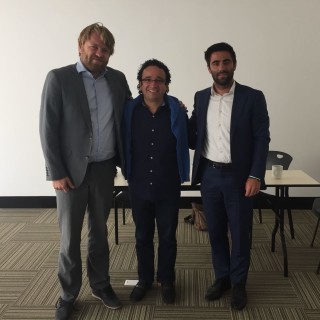 12 oktober 2018
L4L terug van indrukwekkende Caravana
,,De advocaten in Colombia rekenen echt op ons"
Doordrenkt met indrukken, emotioneel geraakt maar vooral geïnspireerd door de bevlogenheid en moed van de mensen die zij hebben ontmoet, zijn Ron Rosenhart en Wout Albers teruggekeerd uit Colombia. Als vertegenwoordigers van Lawyers for Lawyers namen de beide juristen deel aan de zesde Caravana Internacional de Juristas, een internationale fact-finding missie naar de situatie van advocaten en andere verdedigers van mensenrechten. De weg naar een rechtsstaat in Colombia is nog lang, concluderen beiden. Toch willen ze optimistisch zijn.
Wout: ,,Vervolging leidt steeds vaker tot bestraffing en erkenning van slachtoffers. Dat is ontzettend belangrijk voor de mensen die willen terugkeren naar de grond waarvandaan ze verdreven zijn. Maar die terugkeer leidt vaak tot bedreigingen en dodelijk geweld. Ook voor degenen die opkomen voor hun rechten".
Ron: ,,Een vreedzame toekomst is het doel. Maar veel Colombianen strijden tegelijkertijd voor het redden van hun verleden. Het rechtzetten van onrecht. Dat verlangen naar genoegdoening is zowel hartverscheurend als bewonderenswaardig en hoopgevend".
Hoop, die ook prachtig verwoord is in een gedicht op de muur van een cafe in Bogotá,
Una mano (One hand)
Más una mano (Plus one hand)
no son dos manos (aren't two hands)
Son manos unidas (They are united hands)
Une tu mano (Unite your hand)
a nuestras manos (with our hands)
para que el mundo (so that the world)
no esté en pocas manos (won't be in few hands)
sino en todas las manos (but in all hands)
 Dodenlijst
Twee jaar geleden, op 24 november 2016, sloot de Colombiaanse regering een akkoord met de FARC. Dat had het begin moeten zijn van stabiliteit. De realiteit is anders.
Ron: ,,Toen de FARC zich terugtrok van het platteland, nam de Colombiaanse overheid niet meteen de regie. Daardoor ontstond een machtsvacuüm".  Wout vult aan: ,,Gewapende groeperingen zagen kans om deze economisch vaak interessante gebieden over te nemen, waar nodig met grof geweld".
In de vredesovereenkomst is de teruggave van grond geregeld aan de kleine boeren en etnische groepen die tijdens het conflict van hun land zijn verjaagd.
Wout: ,,Slachtoffers moeten heel hard werken om die erkenning te krijgen. Ze kunnen niet rekenen op steun van de overheid. In de regio waar wij waren, worden wel steeds meer mensen door rechtbanken erkend als slachtoffer. Maar het blijft dan nog levensgevaarlijk om zonder hulp  terug te keren".
Ron: ,,Het aantal zaken is zó groot en de procedures zijn zó complex, dat er onvoldoende tijd en middelen zijn om de slachtoffers te compenseren.Tot grote frustratie van rechters en advocaten".
Jorge Molano
Jullie spraken ook met Jorge Molano, die twee jaar geleden de Lawyers for Lawyers Award in ontvangst nam. Hoe is zijn situatie nu?
Ron: ,,Jorge beschikt over een geblindeerde wagen met een bestuurder en een ongewapende lijfwacht die hem door de Colombiaanse overheid zijn toegewezen. Vooralsnog wordt zijn bescherming jaarlijks verlengd, maar dat is voor andere collega-advocaten, die net zoveel gevaar lopen, minder vanzelfsprekend."
Wout: ,,Hij is heel lang mensenrechtenadvocaat. Hij wil rustiger aan doen, al lukt hem dat slecht. Hij gaat meer naar zijn kinderen die zijn gevlucht uit Colombia. Hij heeft bijna al zijn Colombiaanse zaken overgedragen aan zijn collega Herman Romero. Hij gaat zich meer richten op buitenlandse kwesties (in El Salvador en Honduras). Maar dat maakt hem niet minder tot doelwit. Hij staat nog steeds op een dodenlijst".
Als je jullie blogs leest, heeft de missie diepe indruk gemaakt.
Wout: ,,Het is afschuwelijk te constateren dat doodsbedreigingen aan de orde van de dag zijn. Het is ontzettend belangrijk om te lobbyen voor de veiligheid van onze collega's. Advocaten als Rommel Duran, Adil Melendez en Jorge Molano zijn voor mij grote inspiratiebronnen".
Ron: ,,Ik zal dit nooit vergeten. Missies als deze zijn niet alleen goed, maar ook noodzakelijk. De advocaten in Colombia rekenen echt op ons".
Tekst: Johan van Uffelen
Foto: Ron Rosenhart en Wout Albers met Jorge Molano