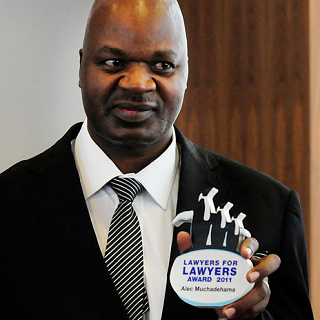 Award laureate 2011
Alec Muchadehama
Op 15 april 2011 vond in Amsterdam de uitreiking van de eerste Lawyers for Lawyers Award plaats. De Zimbabwaanse mensenrechtenadvocaat Alec Muchadehama (links op de foto) ontving deze prijs voor zijn "doorzettingsvermogen" en "uitzonderlijke moed", aldus het juryrapport. Juryvoorzitter Heikelien Verrijn Stuart prees Muchadehama's inzet voor de rechtsstaat en de mensenrechten in de context van de langdurige dictatuur in Zimbabwe.
De Award bestond uit een beeldje en een bedrag van 10.000 euro, beschikbaar gesteld door Allen & Overy. De Lawyers for Lawyers Award werd uitgereikt ter ere van het 25-jarig bestaan van de stichting Lawyers for Lawyers (L4L).
De uitreiking van de Award vond plaats aan het eind van het seminar dat L4L ter gelegenheid van het 25-jarig jubileum had georganiseerd. Gedurende dit seminar, verdeeld over twee deelprogramma"s, bespraken circa vijftien (ervarings-)deskundigen op welke manieren advocaten worden belemmerd in de uitoefening van hun beroep, en welke strategieën effectief zijn bij het beperken en voorkomen van dergelijke belemmeringen.
Tijdens het ochtendprogramma stonden de "Basic Principles on the role of judges and lawyers" centraal. Voor het ochtend-programma waren een zevental papers opgesteld door de enkele van de
deskundigen in de zaal, waaronder VN Speciaal Rapporteur Gabriela Knaul, professor Theo van Boven, Phillip Tahmindjis namens de International Bar Association en Wilder Tayler namens de International Commission of Jurists. Deze papers behandelen verschillende facetten van de Basic Principles, zoals de mate van bekendheid van het instrument, hoe het te gebruiken in geval van een concrete bedreiging en hoe (en of) de juridische status ervan opgewaardeerd moet worden.
Tijdens het middagprogramma vertelden advocaten Alirio Uribe Muñoz (Colombia), Arnold Tsunga (Zimbabwe), Iyas Maleh (Syrië), Edre Olalia (Filippijnen) en Mohammad Mostafaei (Iran; op de foto v.l.n.r.) over hoe zij persoonlijk in hun werk zijn of worden belemmerd. Aan hen werd, net als aan Hans Thoolen (Martin Ennals Foundation), professor Theo van Boven en Speciaal Rapporteur
Gabriela Knaul, gevraagd welke actie in hun ogen het meest effectief is in zulke situaties. Daarbij werd onder meer de rol van advocatenordes besproken, evenals de beschikbaarheid van beschermingsmaatregelen (zgn. protective measures).
Lawyers for Lawyers kijkt met trots terug op de uitreiking van de eerste L4L-Award en op de viering van het jubileum. De uitkomsten van het seminar bieden veel aanknopingspunten voor verder debat
over de bescherming van de onafhankelijkheid van advocaten en de rol die ze spelen in samenlevingen in ontwikkeling, maar ook voor het verder ontwikkelen van het werk dat Lawyers for Lawyers sinds 25 jaar verricht en zal blijven verrichten. L4L bedankt Allen & Overy, NautaDutilh, CMS Derks Star Busmann, de overige kantoren, de verschillende advocatenordes, haar vrijwilligers en gasten voor hun hulp, inbreng en aanwezigheid bij de viering van het 25- jarig jubileum.