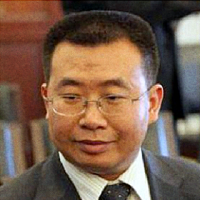 8 november 2022
Lawyer Jiang Tianyong receives IBA Human Rights Award 2022
The Chinese human rights lawyer Jiang Tianyong has received the 2022 International Bar Association (IBA) Award for Outstanding Contribution to Human Rights. Every year, the honour is given by the IBA to a lawyer who has demonstrated exemplary dedication to the advancement of human rights, notably the right to live in a society that values justice and fairness and is governed by the rule of law.
Lawyer Jiang Tianyong is well-known for defending Chinese dissidents and activists, victims of HIV contamination through blood transfusions, Falun Gong religious practitioners, victims of illegal land misappropriation, and those facing discrimination due to health status, gender or age. He has persisted in advocating for human rights despite having his license to practice law suspended in 2009 for taking on too many 'sensitive' cases, facing government persecution, and even being detained. Despite being released from prison in February 2019, Jiang Tianyong was not able to receive the award in person as he is still under house arrest in China.
Read more about Jiang Tianyong's case here.