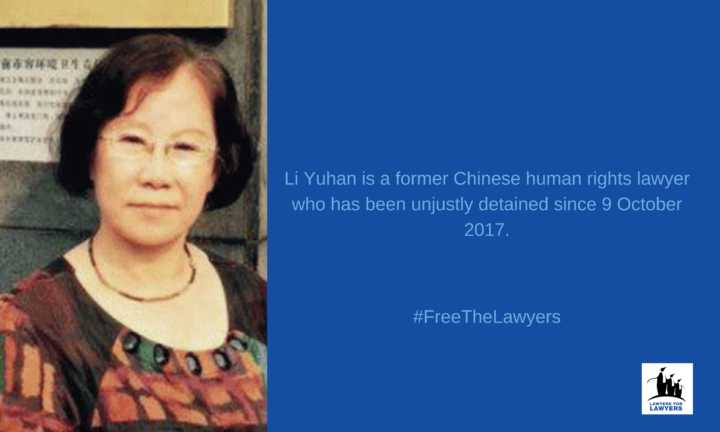 9 oktober 2020
Letter on the ongoing detention of Li Yuhan
Today, exactly three years after the arrest of former Chinese human rights lawyer Li Yuhan, Lawyers for Lawyers has sent a letter to the Chinese authorities calling for the immediate and unconditional release of Li Yuhan. In the letter the need for urgent acces to adequate medical care for Li Yuhan is underlined.
Li Yuhan was arrested on October 9, 2017. For more than a month after her arrest, she was refused access to legal representation. On November 15, 2017, she was charged with "picking quarrels and provoking trouble". Li Yuhan's trial was scheduled for April 9, 2019, but was postponed. Li Yuhan told her lawyer in late November 2019 that the court had said she would be allowed to practice law again after release, as long as she confessed to her supposed crime. Li Yuhan insisted that she would not confess. The current status of Li Yuhan's trial is unknown. Li Yuhan continues to be held in Shenyang City No. 1 Detention Center, Liaoning Province.
Li Yuhan has several urgent medical conditions: arrhythmia, fluttering in chest and tremors, coronary heart disease, unstable angina, hyperthyroidism, acute erosive gastritis, cerebral concussion, and cerebral ischemia. According to our information, Li Yuhan has reported being refused medical treatment. Furthermore, applications for bail have been denied, and the detention centre has denied her brother to provide her with the medication she needs. As of January 2020, authorities have disallowed all visits to Li Yuhan, including visits by her lawyer, citing the COVID-19 pandemic. The actual status of Li Yuhan's health is unknown as of the writing of this letter.
In the letter, Lawyers for Lawyers expresses grave concerns about the health and welfare of Li Yuhan and urges the authorities, amongst other things, to immediately and unconditionally release Li Yuhan, and grant her urgent access to adequate medical care.