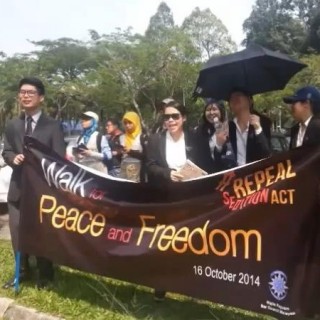 17 oktober 2014
2.000 advocaten roepen op tot afschaffing van de 'sedition act'
De Maleisische Orde van Advocaten organiseerde op 16 oktober de 'Walk for Peace and Freedom', een 1,3 kilometer lange mars uit protest tegen de recente reeks van arrestaties, aanklachten, onderzoeken en vervolgingen gebaseerd op de 'sedition act' uit 1948. De 'sedition act' wordt in toenemende mate gebruikt om juristen en advocaten te belemmeren, die hun mening over de bestaande wetten willen uiten.
Lawyers for Lawyers veroordeelt dergelijk misbruik van het binnenlands recht. Uit Principle 23 van de VN-Basic Principles on the Role of Lawyers vloeit voort dat leden van de advocatuur het recht hebben om deel te nemen aan publieke discussies over de wet, de rechtspraak en de bevordering en bescherming van de mensenrechten. De autoriteiten hebben de plicht dit recht te respecteren en te beschermen.
In maart 2013 heeft Lawyers for Lawyers samen met de Law Society of England and Wales in het kader van de VN's periodic review een submission ingediend voor de Universal Periodic Review (UPR) van Maleisië bij de Mensenrechtenraad van de Verenigde Naties. In deze 'submission' worden soortgelijke schendingen van Principle 23 genoemd.
Lawyers for Lawyers volgt de Internationale Commissie van Juristen, in het herhalen van de oproep aan de regering van Maleisië om de 'sedition act' af te schaffen.