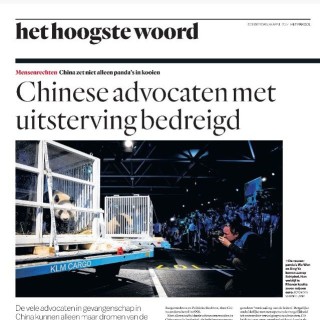 20 april 2017
Onafhankelijke advocaten in China met uitsterven bedreigd
Gepubliceerd in het Parool op 20 april 2017:
Op 12 april 2017 komen twee panda's op Schiphol aan. In het kader van de pandadiplomatie mogen deze twee panda's vijftien jaar lang verblijven in het Ouwehands Dierenpark Nederland. Het verblijf goedgekeurd door de Chinese delegatie en de bezoekers staan te trappelen om de panda's te bewonderen. Kosten noch moeite zijn gespaard om het de panda's naar de zin te maken gedurende hun verplichte verblijf in het Ouwehands Dierenpark.  Een behandeling waar de vele advocaten in gevangenschap in China alleen maar van kunnen dromen. De advocaat is in China inmiddels een kwetsbare soort geworden.
Sinds 9 juli 2015 zijn er door de Chinese overheid meer dan 300 advocaten, gedetineerd, gearresteerd, in beperkingen gehouden, ondervraagd  of op andere wijze in hun vrijheid beperkt.  Binnen enkele dagen heeft de Volksrepubliek veel advocaten die voor de Chinese staat onwelgevallige zaken verdedigde, achter slot en grendel gezet. Wang Yu was één van de eerste advocaten die op 9 juli 2015 verdween, naar verluidt vanwege haar activiteit op social media.[1] De grootschalige arrestaties staan inmiddels wereldwijd bekend als de #709Crackdown. Van al deze advocaten zijn er 15 nog steeds niet naar huis teruggekeerd.[2] Een groot aantal heeft beperkingen zoals een uitreisverbod opgelegd gekregen.[3] Van sommige advocaten is de verblijfplaats onbekend, anderen, zoals Li Chunfu, zijn na maanden van marteling en drogering, volledig beschadigd naar huis teruggekeerd. Een onbekende voor zijn eigen familie.
Inmiddels is een groot aantal van de advocaten nog in afwachting van een proces, op 25 maart jl. heeft de stichting Lawyers for Lawyers samen met 12 andere NGO's China opgeroepen een eerlijk en proces te garanderen voor deze advocaten, door een onafhankelijk en onpartijdige rechtbank, in overeenstemming met de internationale verdragen die China heeft getekend. Daarbij is verwezen naar de UN Basic Principles on the Role of Lawyers , zoals unaniem aangenomen in 1990 ("Basic Principles"). Het recht op een eerlijk proces is een essentieel onderdeel van de Universele Verklaring voor de Rechten van de Mens (UVRM)  en van het Internationale Verdrag voor Burgerrechten en Politieke Rechten (IVBPR), door China ondertekend in 1998.[4]
Niet alleen individuele advocaten worden in China ernstig bedreigd, de hele beroepsgroep staat onder druk. Per 1 november 2016 zijn twee richtlijnen in werking getreden, één richtlijn betreft advocaten en één de advocatenkantoren. Deze richtlijnen tasten de onafhankelijkheid de uitoefening van de rechtspraktijk het toezicht van de staat te accepteren.[5] Ook is het advocaten niet toegestaan hun cliënten aan te zetten tot demonstraties of op te zetten "tegen de Partij en de overheid door het gebruik van internet en massamedia".[6]
Op grond van de Basic Principles heeft een advocaat, net als ieder ander, het recht op vrijheid van meningsuiting, hij mag niet met zijn cliënten worden geïdentificeerd. In de nieuwe richtlijnen is bepaald dat een advocaat geen mening mag verspreiden die de staatsveiligheid in gevaar brengt of een ander persoon kan beledigen door "verdraaiing van de feiten". Dergelijke onduidelijke normen openen de mogelijkheid tot onterechte vervolging van advocaten. Dit leidt tot nog meer onzekerheid: wat kun je als advocaat, binnen en buiten de rechtszaal dan nog wel zeggen?
In Nederland wordt jonge advocaten geleerd dat onafhankelijkheid en partijdigheid de kernwaarden zijn van de advocatuur. Dat betekent onafhankelijkheid bij van de overheid, maar ook van zijn cliënt. Partijdigheid in de Nederlandse context heeft niets met een politieke partij te maken. Het gaat erom dat een advocaat de belangen van zijn cliënt voorop moet kunnen stellen. Alleen met een onafhankelijke en partijdige raadsman is er sprake van een eerlijk proces. De Chinese advocaten vrezen constant voor maatregelen van de overheid, zeker met deze nieuwe richtlijnen. Dit maakt de uitoefening van hun vak vrijwel onmogelijk. En daarmee worden niet alleen de onafhankelijke advocaten met uitsterven bedreigd, maar vooral de rechtstaat.
Wellicht komt het doordat de zwarte toga met witte bef minder schattig oogt dan een pandavachtje, maar de advocaten in China kunnen wel wat n internationale lobby van de Nederlandse regering gebruiken. Met alle pandadiplomatie en pandagekte moeten we niet vergeten dat China niet alleen panda's in kooien zet, maar ook advocaten die opkomen voor mensenrechten en minderheden. En voor die advocaten zijn er geen rustplaatsen of schuilhutten.
Namens Lawyers for Lawyers,
Focusgroep China,
Su Chun Lin en Nienke van Renssen
[1] Zie ook het artikel in The Guardian van 2 september 2015 https://www.theguardian.com/world/2015/sep/02/the-case-of-wang-yu-emblem-of-chinas-human-rights-crackdown
[2] Zie ook het artikel in de South China Morning Post over de oproep van de EU aan China van 29 januari 2017 http://www.scmp.com/news/china/policies-politics/article/2066378/eu-urges-china-investigate-reports-torture-lawyers?utm_source=&utm_medium=&utm_campaign=SCMPSocialNewsfeed
[3] Cijfers per 23 maart 2017, zie ook de website van de China Human Rights Lawyers Human Rights Concern Group,  http://www.chrlawyers.hk/
[4] China heeft het IVBPR al in 1998 getekend, maar nog niet geratificeerd.
[5] Artikel 24, MoJ Directive no. 134, Administrative Measures for th Practice of Law by lawyers, entered into force 1 November 2016
[6] Artikel 37 en 40 van de MoJ Directive no. 134, Administrative Measures for th Practice of Law by lawyers, entered into force 1 November 2016