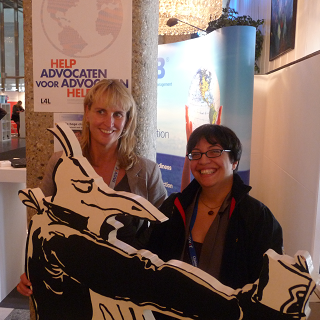 1 oktober 2010
Iran Reputatie zelfs voor Iraanse autoriteiten belangrijk
Op vrijdag 24 september sprak de Iraanse advocate Shadi Sadr op uitnodiging van L4L op het jaarcongres van de Nederlandse Orde van Advocaten in Rotterdam. Ze legde uit waarom zij en sommige van haar collega's niet meer naar hun vaderland kunnen terugkeren. Als advocaat spanden ze zich in om politieke gevangenen, ter dood veroordeelde minderjarigen en tot steniging veroordeelde vrouwen vrij te krijgen, of in ieder geval een eerlijk proces voor hen af te dwingen. "De rechterlijke macht is niet altijd onafhankelijk en onpartijdig, zeker waar het politieke zaken betreft. Ze houdt zich niet aan haar eigen regels. Ze is zelf onderdeel van het probleem."
De vraag dringt zich op of advocaten dan nog iets kunnen betekenen in politieke zaken. "Ze kunnen publiciteit zoeken en interviews geven, maar in de rechtbank zelf kunnen ze niet veel doen," merkt Shadi op. Bij het zoeken van publiciteit lopen advocaten grote kans vervolgd te worden. Haar collega Mohammad Olyaeifard zit sinds mei in de gevangenis vanwege één enkel interview. Zelf is ze op grond van vage aanklachten tot 6 jaar en 74 zweepslagen veroordeeld, en ook de naar Noorwegen gevluchte Mohammad Mostafaei hing een lange gevangenisstraf boven het hoofd. Voor de gevluchte advocaten bevatten de straffen een duidelijke boodschap: kom niet terug naar Iran.
Geregeld vraagt Shadi zich af of en hoe ze vanuit het buitenland de situatie in haar eigen land kan verbeteren. Ook is ze bezorgd om hen die achterbleven, met name om haar eigen familie. Ze vraagt zich af hoe zij hier actie kan ondernemen zonder hen in gevaar te brengen. Wat in haar ogen in ieder geval helpt is de waardering die zij en andere advocaten in de vorm van mensenrechtenprijzen ontvangen, en de aandacht die dat oplevert. "Er zitten risico's aan zo'n prijs, maar het maakt ons meer geloofwaardig," aldus Sadr. "De Iraanse autoriteiten zijn gevoelig voor internationale aandacht. Ze doen alsof ze er niet om geven, maar zelfs voor hen is reputatie belangrijk."
Shadi Sadr kan haar strijd niet alleen voeren. Overtuigend legt ze uit hoe iedereen aan die strijd kan bijdragen. Ze meent dat schrijfacties effectief zijn, en dat het een goed middel is omdat iedereen eraan kan meedoen. "Maar het is wel het minimale dat moet gebeuren." Internationale aandacht, in media en politiek, blijven nodig om de druk op de autoriteiten te vergroten, om zo verandering teweeg te brengen.