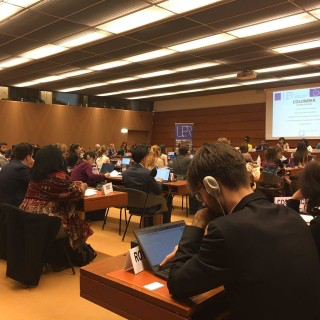 15 april 2018
Pre-session blog
On Friday 13 April, lawyer Oskar Mulder attended the pre-session organized by UPR-Info, for the review of Colombia. Oskar wrote a blog about his experiences that was published on the website of the law firm Brandeis.
"Governments shall ensure that lawyers (a) are able to perform all of their professional functions without intimidation, hindrance, harassment or improper interference; (b) are able to travel and to consult with their clients freely both within their own country and abroad; and (c) shall not suffer, or be threatened with, prosecution or administrative, economic or other sanctions for any action taken in accordance with recognized professional duties, standards and ethics."
– Article 16 of the UN Basic Principles on the on the Role of Lawyers
Unfortunately, there are (still) many lawyers around the world who cannot exercise their profession freely.
UPR pre-sessions Geneva 13 April 2018
As a member of the focus group Latin America of the Dutch organization Lawyers for Lawyers (L4L) I advocate for the human rights of lawyers. In this context I attended the pre-sessions for the Colombia Universal Periodic Review 2018 at the United Nations Headquarters in Geneva last week. The UPR is a UN mechanism that is used to review the human rights in UN member states, by giving recommendations. The pre-sessions, organized by UPR Info since 2012, are organized in order to ensure that the recommendations that will be made are specific and well-targeted. During the pre-sessions, attended by NGO's and UN member state delegations, several NGOs gave a presentation about thematic human rights topics (such as the rights of indigenous people, peasants and LGBT people). The attending country delegations were allowed to make remarks or ask questions. After the presentations, the NGOs could speak with country delegations, for example to suggest recommendations. On behalf of L4L I spoke with several country delegations to address the human rights situation of (human rights) lawyers in Colombia and presented them our suggested recommendations. Hopefully these will appear in the UPR.
During my visit to Geneva I also had the honour to speak with the NGOs Comisión Colombiana de Juristas and DCI-Colombia, who shared interesting but disturbing stories. Please visit their websites for more information.
Rommel Duran
For us at L4L, it is very valuable to speak with lawyers about their human rights situation. For example, recently the Colombian lawyer Rommel Duran visited Amsterdam. We had the chance to speak with him about his situation and to make an interview about this. You can find the interview here. A shorter version was also published by Mr. Online, a Dutch platform for the legal profession, which you can find here (only in Dutch).
Lawyers for Lawyers
L4L, established in 1986, is an independent foundation that is solely funded by lawyers' donations. L4L is committed to safeguard the proper functioning of the rule of law through a free and independent exercise of the legal profession in accordance with international norms, including the United Nations Basic Principles on the Role of Lawyers. L4L was granted Special Consultative status with the UN Economic and Social Council in July 2013.
bureau Brandeis
bureau Brandeis strongly supports L4L and advocates for our colleagues all around the world. As custodians of the state of justice, protected by professional privilege, we believe that lawyers have a unique place in society.