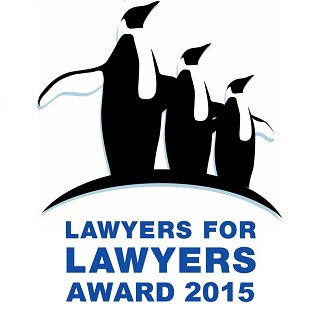 6 februari 2019
SAVE THE DATE: UITREIKING L4L AWARD 2019!
De Lawyers for Lawyers Award 2019 wordt uitgereikt op donderdag 23 mei 2019 in Amsterdam. Het is alweer de vijfde keer dat de internationaal gewaardeerde Lawyers for Lawyers Award wordt toegekend. Voorafgaand aan dit evenement is er een uiterst interessant symposium. Dus: Markeer deze datum alvast in uw agenda!
Het programma ziet er in grote lijnen als volgt uit:
Datum: Donderdag 23 mei 2019
Middag (vanaf circa 14.30 uur): Symposium en uitreiking van de Award
Avond: Borrel
Wij wijzen u graag in het bijzonder op het symposium dat wij in samenwerking met de Amsterdamse Orde van Advocaten en de Justitia commissie van de Jonge Balie Amsterdam organiseren. Het symposium gaat over de ontwikkelingen rond het voorgenomen Europese verdrag ter bescherming van advocaten. Sprekers zijn onder meer de voormalige Award winnaars en advocaten Sirikan 'June' Charoensiri (Thailand), Magamed Abubakarov (Rusland) en Alec Muchadehama (Zimbabwe).
Met de tweejaarlijkse Award vraagt Lawyers for Lawyers internationale aandacht en erkenning voor advocaten die vanwege hun beroep grote persoonlijke risico's lopen. Ze worden bijvoorbeeld bedreigd, strafrechtelijk vervolgd of van het tableau geschrapt, omdat ze zaken behandelen die de overheid onwelgevallig zijn of zich publiekelijk uitspreken over mensenrechtenschendingen. Lawyers for Lawyers steekt advocaten in zulke situaties een hart onder de riem: met de Award wordt wereldwijd zichtbaar gemaakt onder welke omstandigheden deze collega's moeten werken, wat bij kan dragen aan hun bescherming.
Het is tot 1 maart 2019 mogelijk om advocaten voor deze prijs te nomineren via de website van Lawyers for Lawyers.
Wij hopen u te mogen begroeten tijdens de Lawyers for Lawyers Award uitreiking 2019!
PO-punten: Indien u van mening bent dat dit seminar uw praktijkuitoefening of de praktijkvoering ten goede is gekomen dan kunt u ingevolge artikel 4.5. lid 4 onder a. van de Verordening op de advocatuurieder heel uur dat u dit seminar heeft gevolgd opvoeren als één opleidingspunt.