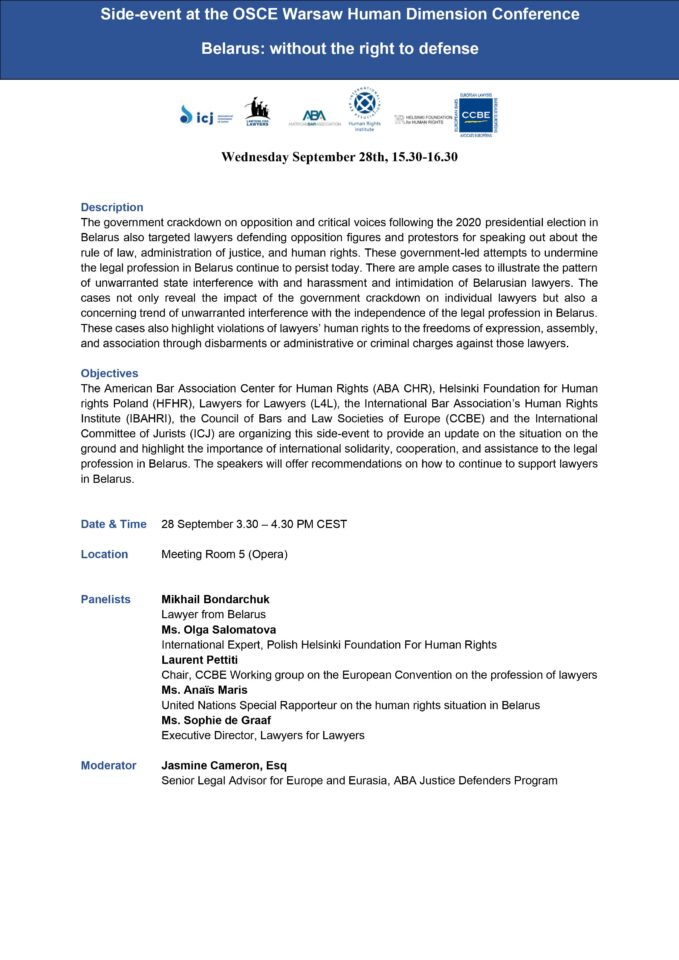 28 september 2022
Side-event at the OSCE Warsaw Human Dimension Conference Belarus: without the right to defense
Wednesday September 28th, 15.30-16.30
Description
The government crackdown on opposition and critical voices following the 2020 presidential election in Belarus also targeted lawyers defending opposition figures and protestors for speaking out about the rule of law, administration of justice, and human rights. These government-led attempts to undermine the legal profession in Belarus continue to persist today. There are ample cases to illustrate the pattern of unwarranted state interference with and harassment and intimidation of Belarusian lawyers. The cases not only reveal the impact of the government crackdown on individual lawyers but also a concerning trend of unwarranted interference with the independence of the legal profession in Belarus. These cases also highlight violations of lawyers' human rights to the freedoms of expression, assembly, and association through disbarments or administrative or criminal charges against those lawyers.
Objectives
The American Bar Association Center for Human Rights (ABA CHR), Helsinki Foundation for Human rights Poland (HFHR), Lawyers for Lawyers (L4L), the International Bar Association's Human Rights Institute (IBAHRI), the Council of Bars and Law Societies of Europe (CCBE) and the International Committee of Jurists (ICJ) are organizing this side-event to provide an update on the situation on the ground and highlight the importance of international solidarity, cooperation, and assistance to the legal profession in Belarus. The speakers will offer recommendations on how to continue to support lawyers in Belarus.
Date & Time 28 September 3.30 – 4.30 PM CEST
Location Meeting Room 5 (Opera)
Panelists  Mikhail Bondarchuk
Lawyer from Belarus
Ms. Olga Salomatova
International Expert, Polish Helsinki Foundation For Human Rights
Laurent Pettiti
Chair, CCBE Working group on the European Convention on the profession of lawyers
Ms. Anaïs Maris
United Nations Special Rapporteur on the human rights situation in Belarus
Ms. Sophie de Graaf
Executive Director, Lawyers for Lawyers
Moderator Jasmine Cameron, Esq
Senior Legal Advisor for Europe and Eurasia, ABA Justice Defenders Progra
In cooperation with the American Bar Association (ABA) and the International Bar Association's Human Rights Institute (IBAHRI), Lawyers for Lawyers has prepared a report to summarize the ongoing worrying trend of suppression of the legal profession and individual lawyers in Belarus as highlighted by the Human Rights Council in Resolution 50/L.18.