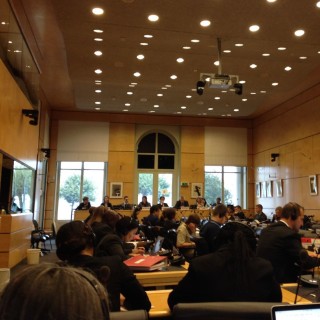 2 juni 2020
Submission to UN Human Rights Committee
In 2021, the UN Human Rights Committee will review the Russian Federation's compliance with its international human rights obligations, and more in particular the implementation of the International Covenant on Civil and Political Rights. Lawyers for Lawyers has taken the opportunity to file a submission on the list of issues to inform the Committee about the situation of lawyers in the Russian Federation.
The submission highlights three main issues: difficulties with access to clients in detention, lack of lawyer-client confidentiality during meetings with clients in detention and harassment of, and threats against, lawyers.
Lawyers from the Russian Federation have often experienced difficulties with access to their clients in detention, especially when they are working on politically sensitive cases. They are regularly prevented from meeting with their clients upon presentation of the required documents and are not always guaranteed to meet with their clients even after being made to wait outside in hard weather conditions.
Another issue raising concern is the lack of lawyer-client confidentiality during meetings with clients in detention. Lawyers have reported that insufficient measures are taken by prison personnel to guarantee the confidential nature of the meeting of lawyers with their clients. Their meetings are sometimes attended by prison personnel, interrupted for generally fabricated reasons and sometimes only allowed through glass and telephones, which are most likely tapped by security personnel of the prison.
One of the main concerns addressed in the submission, is that lawyers in the Russian Federation who are working on sensitive cases are sometimes subjected to attempts by investigative authorities to harass and disrupt their work. They face threats, intimidation and (physical) attacks in connection with their legitimate activities as lawyers.
Earlier submissions
Lawyers for Lawyers has also contributed to the review of the Russian Federation by the Human Righs Committee in 2015. The report for this session can be found here.
Meer nieuws uit Russian Federation