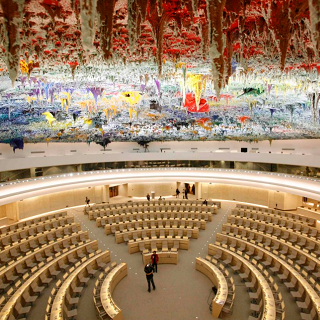 31 augustus 2016
Beroep op overheid om UPR aanbevelingen over advocaten te accepteren
Op 6 mei 2016 ontving Tadzjikistan tijdens de interactieve dialoog van de Universal Periodic Review (UPR een aantal aanbevelingen met betrekking tot het functioneren en de rol van advocaten in het land. Lawyers for Lawyers riep de autoriteiten op deze zo snel mogelijk te accepteren en implementeren, om zo de goede werking van de advocatuur in Tadzjikistan te garanderen.
Lawyers for Lawyers uitte haar bezorgheid over de situatie van advocaten in Tadzjikistan en de naleving van de VN Basic Principles on the role of lawyers in een NGO rapportage voor de UPR. Advocaten die werken aan gevoelige zaken zijn het doelwit van intimidatie, arrestaties en vervolging. Dit belemmert de toegang tot een onafhankelijke advocatuur. Voor het verbeteren van de situatie van de mensenrechten in Tadzjikistan is het van fundamenteel belang dat eenieders recht op een eerlijk proces wordt gewaarborgd, en dat advocaten hun werk onafhankelijk kunnen uitvoeren, zonder angst voor oneigenlijke inmenging of intimidatie.
Tijdens deze interactieve dialoog van de UPR afgelopen mei ontving Tadzjikistan de volgende aanbevelingen:
"118.38: Ensure lawyers freedom to exercise their professional duties by guaranteeing unhindered access to their clients, freedom to represent their clients without threats from state or other actors and that such threats are promptly investigated (Norway);
118.39: Refrain from and prevent any executive interference with lawyers' conduct of their professional duties (Austria);
118.67: Provide human rights defenders, including defense attorneys and political figures detained as a result of their political activities, such as Burzurgmehr Yorov, Shuhrat Qudratov, and Ishoq Tabarov and his sons, with fair, open, and transparent trials, including the substantive protections and procedural guarantees in accordance with Tajikistan's international obligations (United States of America);
118.69: Immediately and unconditionally release prisoners arrested on politically motivated charges, including members of the Islamic Renaissance party of Tajikistan, Group 24 and their lawyers (Norway)."
Tadzjikistan heeft gezegd deze aanbevelingen te onderzoeken en uiterlijk op de drieëndertigste zitting van Mensenrechtenraad in september 2016 aan te geven of de aanbevelingen geaccepteerd worden.
Meer nieuws uit Tajikistan