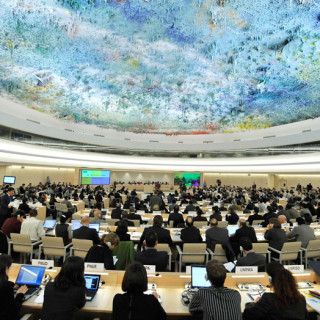 27 maart 2016
Thailand-blog L4L bereidt zich voor op UPR pre-sessie
Door Karin Monster
Aankomende week  –  van 30 maart tot en met 1 april 2016 – vinden in Genève de pre-sessies plaats ter voorbereiding op de 25e 'Universal Periodic Review' (UPR). Tijdens deze pre-sessies, die georganiseerd worden door UPR Info, komen delegaties van de VN-landen en mensenrechten- en andere maatschappelijke organisaties bijeen, om de mensenrechtensituatie in de VN lidstaten te bespreken die tijdens de aankomende UPR aan bod komen. De landendelegaties doen tijdens de UPR (naar aanleiding van de pre-sessies) aanbevelingen over de mensenrechtensituatie in de betreffende lidstaten, die door de VN-Mensenrechtenraad kunnen worden overgenomen en bij de betreffende landen onder de aandacht kunnen worden gebracht.
L4L neemt deel aan de UPR pre-sessies, waarvoor het in september 2015 drie rapporten heeft ingediend inzake Thailand, Tadzjikistan en (in samenwerking met partnerorganisaties) Swaziland. In de rapporten wordt aandacht gevraagd voor de mensenrechtensituatie en de positie van advocaten in deze landen.
Volgende week reis ik samen met Milena Latuputty af naar Genève om de pre-sessies bij te wonen. Milena zal L4L tijdens de pre-sessies vertegenwoordigen, waarbij zij zich voornamelijk richt op de case van Thailand. Ik zal verslag doen van de gang van zaken voorafgaand en tijdens de pre-sessies en hierbij aandacht besteden aan de huidige mensenrechtensituatie en de positie van advocaten in Thailand.
Milena werkt sinds 2011 voor L4L en is nog altijd gedreven om zich in te zetten voor de doelstellingen van de organisatie: "Als advocaat in Nederland kun je iedere cliënt in rechte verdedigen, ook in politiek gevoelige zaken, zonder daarin door de openbare autoriteiten te worden gehinderd. Dat is voor ons een vanzelfsprekend uitvloeisel van de 'rule of law'. Dat is een groot goed, wat niet vanzelfsprekend is in ieder land. Bij L4L kan ik mijn steentje bijdragen aan de verbetering van de positie van mijn collega's in het buitenland."
In totaal werken er zo'n  45 tot 50 advocaten op vrijwillige basis voor L4L. Binnen hun eigen focusgroep (Latijns-Amerika, Afrika, Eurazië, Iran & Syrië, Rusland, Midden-Oosten, China, Zuidoost Azië, Filippijnen of Turkije) werken zij aan de verbetering van de situatie van bedreigde advocaten elders ter wereld. Dit doen zij bijvoorbeeld door de positie van deze advocaten wereldwijd onder de aandacht te brengen bij nationale en internationale organisaties en bij de betrokken autoriteiten.
Voor Milena, die sinds oktober 2012 voorzitter is van de focusgroep Zuidoost Azië, bieden de UPR pre-sessies een mooie kans om te lobbyen voor de situatie van advocaten in Thailand. Hard nodig, weet zij uit ervaring: "In Zuid Oost Azië zijn gevallen bekend waarin advocaten spoorloos verdwenen, zijn vermoord of op onheuse gronden zijn terechtgesteld en in de gevangenis zijn terechtgekomen."
Momenteel zijn de voorbereidingen voor de pre-sessies bij L4L in volle gang. Blijf ons aankomende week dus volgen en kom meer te weten over het werk van L4L, de huidige positie van (bedreigde) advocaten in Thailand en de gang van zaken tijdens de UPR pre-sessies.