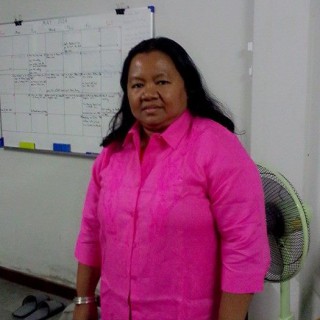 21 november 2014
Militairen onderbreken ontmoeting advocaat en lokale gemeenschappen
Op 11 november 2014 werd een bijeenkomst tussen advocaat Sor Rattabanee Polkaw en leden van de lokale gemeenschappen in de Udon Thani Provincie, uit Noord-Oost-Thailand, onderbroken door militairen en de politie.
Polkaw is een mensenrechtenadvocaat werkzaam bij het Community Resources Centre (CRC). Zij bezocht de Udon Thani regio voor juridische consultaties met gemeenschappen uit acht provincies uit het stroomgebied van de Mekong. Ze waren van plan om te praten over de milieu-effecten van de bouw van de Xayaburi hydro-elektrische dam in de 'Lower Mekong' Rivier, en de zaak die daaraan verbonden is. De bouw van de Xayaburi hydro-elektrische dam, kan er toe leiden dat 2.100 mensen zich ergens anders zullen moeten gaan vestigen, en de effecten van de bouw zouden meer dan 202.000 mensen negatief kunnen worden beïnvloed door het verlies van hun landbouwgronden en tuinen. De Miong gemeenschappen vechten de voortzetting van de bouw daarom aan, in verschillende rechtbanken.
Toen Polkaw op 11 november arriveerde op de plaats van de vergadering zag ze dat er militairen aanwezig waren, en ze informeerde naar hun redenen om daar te zijn. De officieren antwoordden dat zij gehoord hadden over geplande bijeenkomst met een advocaat, en vertelde haar dat zij verplicht is om toestemming te vragen aan de militaire autoriteiten voor zulke bijeenkomsten. Polkaw verklaarde dat zij ter plaatse was om juridisch consultaties te houden met leden van de gemeenschappen, wat een legitieme activiteit is voor een advocaat, en dat zij nooit eerder had gehoord dat voor dergelijke bijeenkomsten speciale toestemming gevraagd moet worden. Het leger dwong haar een brief te tekenen waarin zij verklaarde voor overige bijeenkomsten eerst toestemming te vragen. Polkaw heeft diezelfde dag nog toestemming gevraagd voor de bijeenkomst, die ook verleend werd, maar de militaire autoriteiten bleven aanwezig bij de(privé) consultaties. De volgende dag, op 12 november 2014, werden de juridische consultaties voorgezet, en waren de militaire autoriteiten wederom aanwezig.
De Basic Principles on the Role of Lawyers stellen dat: "Governments shall ensure that lawyers are able to travel and to consult with their clients freely both within their own country and abroad", and "governments shall recognize and respect that all communications and consultations between lawyers and their clients within their professional relationship are confidential".
Lawyers for Lawyers roept de Thaise autoriteiten daarom op om te garanderen dat het mensenrechten advocaat Sor Rattanamanee Polkaw is toegestaan haar legitieme juridische werkzaamheden uit te voeren, en dat zij een (privé)bijeenkomst mag houden met lokale gemeenschappen, zonder tussenkomst van de plaatselijke militaire en politie.