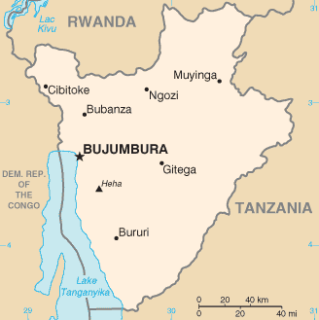 11 augustus 2021
Tony Germain Nkina sentenced to 5 years in prison
It has been reported that on 15 June 2021 Burundian lawyer Tony Germain Nkina has been sentenced to 5 years in prison, in all likelihood in connection with his professional activities as a lawyer.
Tony Germain Nkina is a well-known lawyer in Kayanza and a member of the Gitega Bar Association. Mr. Nkina was a representative of the Association for the Protection of Human Rights and Detained Persons (Association pour la protection des droits humains et des personnes détenues, APRODH), until the Burundian government suspended the organization in 2015 as part of a larger crackdown in civil society.
On 13 October 2020, Mr. Nkina was arrested when he was visiting a client. He was briefly detained by the intelligence service in Kayanza, then transferred to police detention, and finally to Ngozi prison, where he is currently detained. On 15 June 2021, Mr. Nkina was convicted by the court of Kayanza of "collaboration with rebels who attacked Burundi" and sentenced to 5 years in prison and a fine of one million Burundian francs (approximately $500).
Tony Germain Nkina's appeal hearing is scheduled for 12 August 2021 at the Ngozi court of appeal.