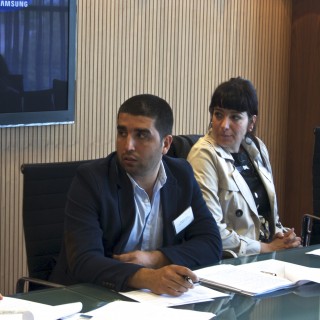 16 maart 2016
Politie inval en arrestatie van 9 advocaten
In de vroege ochtend van 16 maart 2016 heeft de politie de huizen en kantoren van 9 advocaten doorzocht in Istanbul, Turkije. Na de doorzoekingen werden advocaten Ramazan Demir, İrfan Arasan, Ayşe Acinikli, Hüseyin Boğatekin, Şefik Çelik, Adem Çalışçı, Ayşe Başar, Tamer Doğan en Mustafa Ruzgar gearresteerd. Zij zijn allen lid van de Libertarian Lawyers Association (Ozgurluk Hukukcular Dernegi – OHD). Ramazan Demir stond vorig jaar journaliste Frederike Geerdink bij, die na een kort proces werd vrijgesproken.
Volgens de ontvangen informatie zijn er geen redenen gegeven voor de arrestaties en doorzoekingen.
Een aantal van de gearresteerde advocaten staan de 46 advocaten bij, die in 2011 werden gearresteerd op verdenking van "het werken voor, of die behoren tot een terroristische organisatie". De volgende zitting in dit proces zal 17 maart plaatsvinden. L4L en Fair Trial Watch zijn in Istanbul om deze zitting waar te nemen, zoals zij ook hebben gedaan met alle eerdere zittingen in deze zaak. We vroegen de voormalig Deken van Rotterdam om deel te nemen aan de missie, en de zitting waar te nemen namens de Deken's van Nederland.
Lawyers for Lawyers is erg bezorgd over de voortdurende arrestaties van advocaten in Turkije, en riep samen met Fair Trial Watch de Turkse autoriteiten op om de gearresteerde advocaten onmiddellijk vrij te laten.
Achtergrond van de zaak tegen de 46 advocaten
Op 22 november 2011 werden 46 advocaten gearresteerd op verdenking van  'het werken voor, of behoren tot, een terroristische organisatie'. De Turkse autoriteiten beschouwen de KCK als de stedelijke vleugel van de verboden Koerdische Arbeiderspartij PKK. Het overgrote deel van de verdachte advocaten is bij de verdediging van de gevangen PKK-leider Abdullah Öcalan betrokken geweest. Volgens het Openbaar Ministerie hebben de verdachten instructies van Adbullah Öcalan doorgegeven aan zijn achterban en zijn zij lid van een terroristische organisatie. Volgens de verdediging is hiervoor geen bewijs.
Na de sluiting van de speciale rechtbanken en de verlaging van de maximale duur van voorlopige hechtenis naar 5 jaar zijn op 18 maart 2014 de laatste negen advocaten en een journalist in deze zaak vrijgelaten. Zij zaten bijna 2 ½ jaar, sinds november 2011, in voorlopige hechtenis.