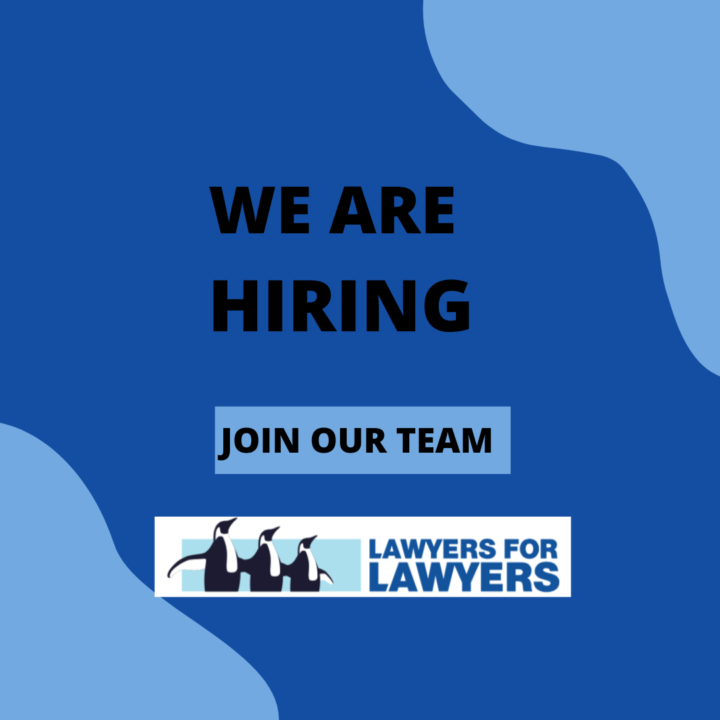 31 oktober 2023
Vacature Manager Fondsenwerving en Communicatie
Word jij de eerste manager Fondsenwerving en Communicatie bij Lawyers for Lawyers?
Verantwoordelijkheden:
Fondsenwerving
Communicatie
Contacten in Nederland
De Manager Fondsenwerving en Communicatie is verantwoordelijk voor de fondsenwerving voor Lawyers for Lawyers. Het huidige budget is 250.000 euro en er ligt een stevig groeiplan. Voor jou is er ruimte om dat groeiplan vorm te geven en waar te maken. Lawyers for Lawyers is een netwerk van advocaten. Jij bent verantwoordelijk voor onze contacten in Nederland met fondsen, donateurs en partner-kantoren. Je bent echt een connector, je brengt mensen bij elkaar en draagt de missie van Lawyers for Lawyers met passie uit.
Lawyers for Lawyers heeft ambities om te werken aan de naamsbekendheid onder de doelgroepen. Daar hoort een communicatiestrategie bij en ook een nieuwe website. Jij mag dat vorm gaan geven en Lawyers for Lawyers op de kaart gaan zetten. Daarbij kun je gebruik maken van de kennis die aanwezig is bij onze partners en is er ook een beperkt budget om kennis in te huren. Je vind het leuk om binnen een beperkt budget creatieve oplossingen te vinden die passen bij onze organisatie en die de doelgroep aanspreken.
Samen met de directeur stel je een jaarplan op met duidelijke SMART doelen zodat jij en je collega's goed weten wat er van je verwacht wordt. Daarin neem je de leiding, omdat jij het beste weet wat voor jouw haalbare doelen zijn. Je vindt het leuk om deze vrijheid en verantwoordelijkheid te nemen. Je communiceert helder en staat open voor feedback. Je legt verantwoording af aan de directeur op basis van het jaarplan.
Lawyers for Lawyers heeft een klein team dat in 2024 zal groeien van 3 naar 4 fte. Daarnaast werken we met vrijwilligers en stagiaires. Als manager werk je nauw samen met de directeur en ben je ook haar plaatsvervanger. Jullie hebben ieder eigen taken en terreinen die elkaar aanvullen. Jij legt verantwoording af aan de directeur. Je werkt ook nauw samen met de programmamedewerkers.
Ervaring vereist:
Fondsenwerving privé personen en/of bedrijven
Projectmanagement
Eindverantwoordelijk geweest voor projecten, fondsenwerving targets of campagnes
Ervaring gewenst:
Fondsenwerving: nalatenschappen, overheden, fondsen
Communicatie
Campagnes
Kennis van de wereld van advocatuur
Competenties:
Taalvaardigheid in het Nederlands en het Engels
Zelfstandig werken
Sociaal, mensenmens
Passie voor fondsenwerving
Taken
Verantwoordelijk voor het realiseren van het dekkingsplan van het budget
Verantwoordelijk voor opstellen en realiseren jaarplan voor communicatie en fondsenwerving met SMART doelstellingen
Volgen van inkomsten en rapporteren per kwartaal of de doelen behaald worden
Verantwoordelijk voor realiseren evenementen in Nederland zoals de Lawyers for Lawyers award (eens per twee jaar), partner evenementen en speakertours
Verantwoordelijk voor relatiebeheer naar donateurs
Plaatsvervanger van directeur
Aansturen van programmamedewerkers, vrijwilligers en stagiaires op taken rondom communicatie en fondsenwerving
Arbeidsvoorwaarden
Voor deze functie staat 40 uur per week (minder uren kan in overleg), startdatum is 1 februari 2024. Lawyers for Lawyers biedt een tijdelijk contract aan voor de duur van een jaar. Wij bieden een bruto maandsalaris tussen de €3.900,- en €4.300,- (op basis van ervaring) met een bijdrage aan een individuele pensioenvoorziening. Ook geven wij jou de ruimte om jezelf te blijven ontwikkelen door middel van een opleidingsbudget.
Sollicitatie
Graag ontvangen we jouw motivatiebrief en cv via info@lawyersforlawyers.nl. Solliciteren kan tot en met 8 december 2023. Een referentiecheck is onderdeel van de sollicitatieprocedure. Voor meer informatie over de functie kun je contact opnemen met Sophie de Graaf, directeur, via S.deGraaf@lawyersforlawyers.nl