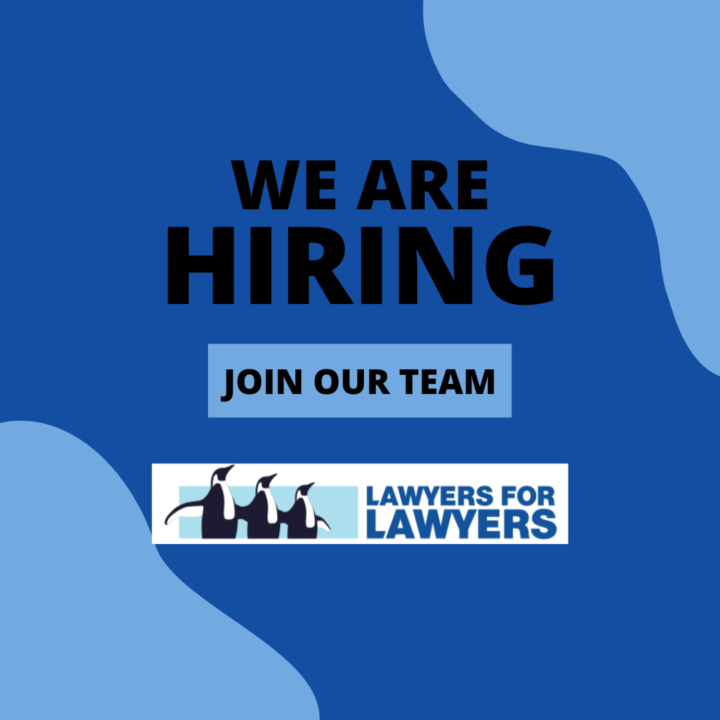 27 juni 2022
Vacature programma medewerker
Lawyers for Lawyers (L4L) komt op voor bedreigde advocaten. We helpen advocaten om hun taak als beschermer van de rechtsstaat vrij en onafhankelijk te kunnen uitoefenen en zetten ons in om vervolging van advocaten te voorkomen of te beëindigen.
Lawyers for Lawyers bestaat uit een sterk bestuur, een klein kantoor en een netwerk van zeventig advocaat-vrijwilligers. De activiteiten van de organisatie bestaan onder meer uit: advocacy middels gesprekken en indienen stukken bij overheden en VN, bewustwording via campagnes, social media en evenementen zoals de Lawyers for Lawyers Award, monitoring van de rechtsgang o.a. door aanwezig te zijn bij zittingen en direct ondersteunend contact met collega-advocaten van over de hele wereld.
Lawyers for Lawyers is op zoek naar een programma medewerker. Hij/zij/hen werkt nauw samen met de directeur, programma assistent, stagiaires en advocaat-vrijwilligers. Lawyers for Lawyers biedt een leerzame afwisselende baan met veel vrijheid en verantwoordelijkheid.
Programma medewerker
Lawyers for Lawyers zoekt een sprankelende duizendpoot. Iemand die barst van de energie en het leuk vindt om veel verschillende taken te combineren. In een klein kantoor heb je als medewerker te maken met alle activiteiten van de organisatie; van het uitvoeren van acties, tot het inhoudelijk werken aan rapporten en van lobby in Genève tot trainingen aan advocaten in het buitenland.
De medewerker legt verantwoording af aan de directeur.
Verantwoordelijkheden:
Verantwoordelijk voor het opzetten en uitvoeren van acties voor bedreigde advocaten;
Opzetten en consolideren van (inter)nationale netwerken;
Inhoudelijke ondersteuning bij het schrijven van stukken voor internationale mensenrechten mechanismen;
Fungeren als contactpersoon voor advocaat-vrijwilligers en bewerkstelligen actieve samenwerking met deze vrijwilligers;
Organiseren en geven van trainingen over de rechten en privileges van advocaten op internationaal niveau en internationale mensenrechtenmechanismen;
Het vertegenwoordigen van onze organisatie tijdens evenementen en het geven van presentaties over ons werk;
Ondersteuning bij het organiseren van evenementen;
Ondersteuning bij communicatie, waaronder website en social media;
Diverse andere taken ter ondersteuning van onze missie en visie.
Wie ben jij?
Je hebt een afgeronde masteropleiding in een relevante studierichting en kennis van mensenrechten(mechanismen);
Je hebt relevante werkervaring in de non-profit sector;
Je kunt goed om gaan met eigen verantwoordelijkheid, prioriteiten stellen en het halen van deadlines;
Je bent in staat om relevante externe contacten te leggen, onderhouden en te betrekken bij ons werk;
Je hebt ervaring met werken met vrijwilligers;
Je bent leergierig, proactief, resultaatgericht, analytisch en cultuursensitief;
Je hebt een zeer goede schriftelijke en mondelinge beheersing van het Nederlands en Engels;
Kennis van een andere taal zoals het Frans, Spaans, Arabisch, of Russisch is een pré.
Wat biedt Lawyers for Lawyers
Lawyers for Lawyers is een kleine organisatie met een groot netwerk. De organisatie heeft ruime ervaring met het ondersteunen van advocaten over de hele wereld. Er is een zeer betrokken meewerkend bestuur bestaande uit advocaten.
Lawyers for Lawyers houdt kantoor in de Law Hub van de Universiteit van Amsterdam in het centrum van Amsterdam. Voor deze functie staat 32-36 uur per week. Lawyers for Lawyers biedt een tijdelijk contract aan voor de duur van een jaar. Wij bieden een marktconform salaris met pensioenregeling. Ook geven wij jou de ruimte om jezelf te blijven ontwikkelen.
Sollicitatie
Graag ontvangen we jouw motivatiebrief en cv via info@lawyersforlawyers.nl. Solliciteren kan tot en met woensdag 13 juli. De sollicitatiegesprekken zullen plaatsvinden op 19 en 20 juli. Een assessment in de vorm van een praktijkopdracht maakt onderdeel uit van de selectieprocedure. Ook is een referentiecheck onderdeel van de sollicitatieprocedure. Voor meer informatie over de functie kun je contact opnemen met ons via 020 717 16 38.