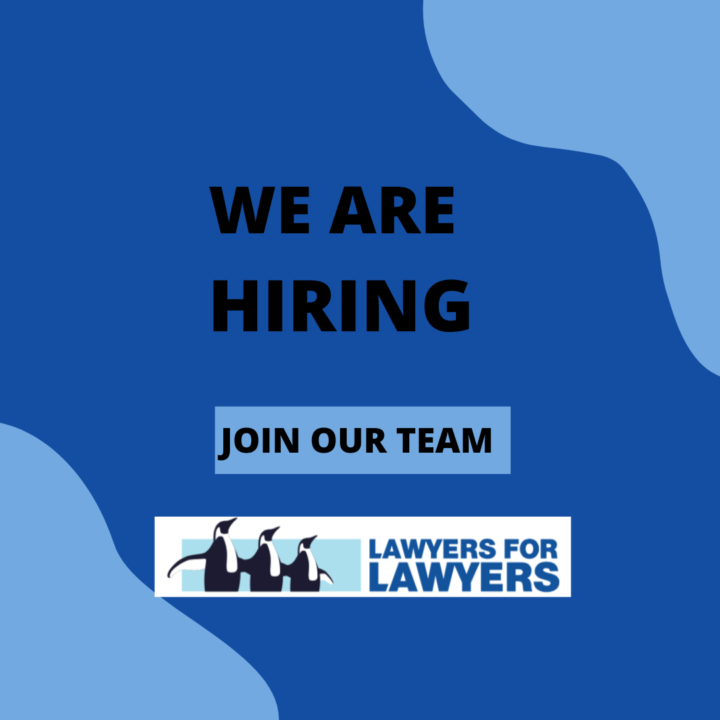 12 september 2023
Vacature programma medewerker / Vacancy program officer
Vacature programma medewerker
English below
Lawyers for Lawyers (L4L) komt op voor bedreigde advocaten. We helpen advocaten om hun taak als beschermer van de rechtsstaat vrij en onafhankelijk te kunnen uitoefenen en zetten ons in om vervolging van advocaten te voorkomen of te beëindigen.
Lawyers for Lawyers bestaat uit een sterk bestuur, een klein kantoor en een netwerk van zeventig advocaat-vrijwilligers. De activiteiten van de organisatie bestaan onder meer uit: advocacy middels gesprekken en indienen van stukken bij overheden en de Verenigde Naties, bewustwording via campagnes, social media en evenementen zoals de Lawyers for Lawyers Award, monitoring van de rechtsgang o.a. door aanwezig te zijn bij zittingen en direct ondersteunend contact met collega-advocaten van over de hele wereld.
Lawyers for Lawyers is op zoek naar een programma medewerker. Hij/zij/hen werkt nauw samen met het kleine team van medewerkers, stagiaires en advocaat-vrijwilligers. Lawyers for Lawyers biedt een leerzame afwisselende baan met veel vrijheid en verantwoordelijkheid.
Programma medewerker
Lawyers for Lawyers zoekt een sprankelende duizendpoot. Iemand die barst van de energie en het leuk vindt om veel verschillende taken te combineren. In een klein kantoor heb je als medewerker te maken met alle activiteiten van de organisatie; van het uitvoeren van acties, tot het inhoudelijk werken aan rapporten en van lobby in Genève tot trainingen aan advocaten in het buitenland.
De medewerker legt verantwoording af aan de directeur.
Verantwoordelijkheden:
Verantwoordelijk voor het opzetten en uitvoeren van acties voor bedreigde advocaten;
Opzetten en consolideren van (inter)nationale netwerken;
Het doen van onderzoek naar de positie van advocaten in verschillende landen, het schrijven en redigeren van stukken voor internationale mensenrechten mechanismen en het voeren van een actieve lobby om de positie van advocaten te verbeteren in binnen- en buitenland;
Fungeren als contactpersoon voor advocaat-vrijwilligers en bewerkstelligen actieve samenwerking met deze vrijwilligers;
Organiseren en evenementen, webinars en trainingen over de rechten en privileges van advocaten op internationaal niveau en internationale mensenrechtenmechanismen;
Het vertegenwoordigen van onze organisatie tijdens evenementen en het geven van presentaties over ons werk;
Ondersteuning bij communicatie, waaronder website en social media;
Diverse andere taken ter ondersteuning van onze missie en visie.
Wie ben jij?
Je hebt een afgeronde masteropleiding in een relevante studierichting en kennis van mensenrechten(mechanismen);
Je hebt relevante werkervaring in de non-profit sector;
Je kunt goed om gaan met eigen verantwoordelijkheid, prioriteiten stellen en het halen van deadlines;
Je bent in staat om relevante externe contacten te leggen, onderhouden en te betrekken bij ons werk;
Je hebt ervaring met werken met vrijwilligers;
Je bent leergierig, proactief, resultaatgericht, analytisch en cultuursensitief;
Je hebt een zeer goede schriftelijke en mondelinge beheersing van het Engels en het Nederlands;
Kennis van een andere taal zoals het Frans, Spaans, Arabisch, of Russisch is een pré.
Wat biedt Lawyers for Lawyers
Lawyers for Lawyers is een kleine organisatie met een groot netwerk. De organisatie heeft ruime ervaring met het ondersteunen van advocaten over de hele wereld. Er is een zeer betrokken meewerkend bestuur bestaande uit advocaten.
Lawyers for Lawyers houdt kantoor in de Law Hub van de Universiteit van Amsterdam in het centrum van Amsterdam. Voor deze functie staat 36 uur per week (meer of minder uren kan in overleg), startdatum is 1 december 2023. Lawyers for Lawyers biedt een tijdelijk contract aan voor de duur van een jaar. Wij bieden een bruto maandsalaris tussen de €2.600,- en €3.200,- (op basis van 36 uur per week en ervaring) met pensioenregeling. Ook geven wij jou de ruimte om jezelf te blijven ontwikkelen door middel van een opleidingsbudget.
Sollicitatie
Graag ontvangen we jouw motivatiebrief en cv via info@lawyersforlawyers.nl. Solliciteren kan tot en met 1 oktober 2023. De sollicitatiegesprekken zullen plaatsvinden op 11 oktober 2023. Een assessment in de vorm van een praktijkopdracht maakt onderdeel uit van de selectieprocedure. Ook is een referentiecheck onderdeel van de sollicitatieprocedure. Voor meer informatie over de functie kun je contact opnemen met ons via 020 717 16 38.
Vacancy program officer
Lawyers for Lawyers (L4L) supports lawyers who are being threatened and harassed in connection to their professional activities. Our work seeks to protect lawyers from threats, risks and reprisals, strengthen their international recognition and protection in laws, policies and practices, and empower them to fulfil their role as essential agents of the administration of Justice.
Lawyers for Lawyers is a small organization consisting of a small executive office in Amsterdam, an engaged board and a network of seventy volunteer lawyers. Our activities include advocacy through the submission of reports to United Nations Human Rights Mechanisms, supporting lawyers through campaigns, social media,  events such as the Lawyers for Lawyers Award, trial monitoring missions, capacity building, fact-finding missions and direct supportive contact with lawyers from all over the world.
Lawyers for Lawyers is looking for a program officer. He/she/them works closely with the small team of employees, interns and volunteer lawyers. Lawyers for Lawyers offers a varied job with a lot of freedom and responsibility.
Program officer
Lawyers for Lawyers is looking for a fantastic all-rounder. Someone who is bursting with energy and enjoys combining many different tasks. As an employee in a small office you have to deal with all the activities of the organization; from contacting volunteers and lawyers abroad, to more substantive work on reports and lobby and advocacy.
The program officer reports to the executive director.
Responsibilities:
Setting up and implementing campaigns for lawyers at risk;
Develop working relationships with organisations and individuals relevant to the work of the organization
Conduct research into the position of lawyers in various countries, writing and editing reports for international human rights mechanisms and conducting an active lobby to improve the position of lawyers around the world;
Act as a contact person for lawyer-volunteers and effectively collaborate with these volunteers;
Organize events, webinars and training sessions on the rights and privileges of lawyers at international level;
Representing our organization during events and give presentations about our work;
Assist with organisation and effective delivery of communications and engagement activities.
Various other tasks in support of our mission and vision.
Who are you?
You have completed a master's degree in a relevant field of study and have knowledge of human rights (mechanisms);
You have relevant work experience in the non-profit sector;
You can deal with responsibility, prioritizing and meeting deadlines;
You are able to identify and develop working relationships with organisations and individuals relevant to the work of the organization;
You have experience working with volunteers;
You are eager to learn, proactive, results-oriented, analytical and culturally sensitive;
You have very good written and oral skills in English and Dutch;
Knowledge of another language such as French, Spanish, Arabic or Russian is an advantage.
What does Lawyers for Lawyers offer?
Lawyers for Lawyers is a small organization with a large network. The organization has extensive experience in supporting lawyers all over the world. There is a very committed, cooperative board consisting of lawyers.
Lawyers for Lawyers has an office in the Law Hub of the University of Amsterdam in the center of Amsterdam. This position requires 36 hours per week (more or fewer hours can be discussed), the start date is December 1, 2023. Lawyers for Lawyers offers a temporary contract for a period of one year. We offer a gross monthly salary between €2,600 and €3,200 (based on 36 hours per week and experience) with a pension scheme. We also give you the space to continue to develop yourself through a training budget.
Application
We would like to receive your motivation letter and CV via info@lawyersforlawyers.nl. You can apply until October 1, 2023. The job interviews will take place on October 11, 2023. An assessment in the form of a practical assignment is part of the selection procedure. A reference check is also part of the application procedure. For more information about the position, please contact us on 020 717 16 38.