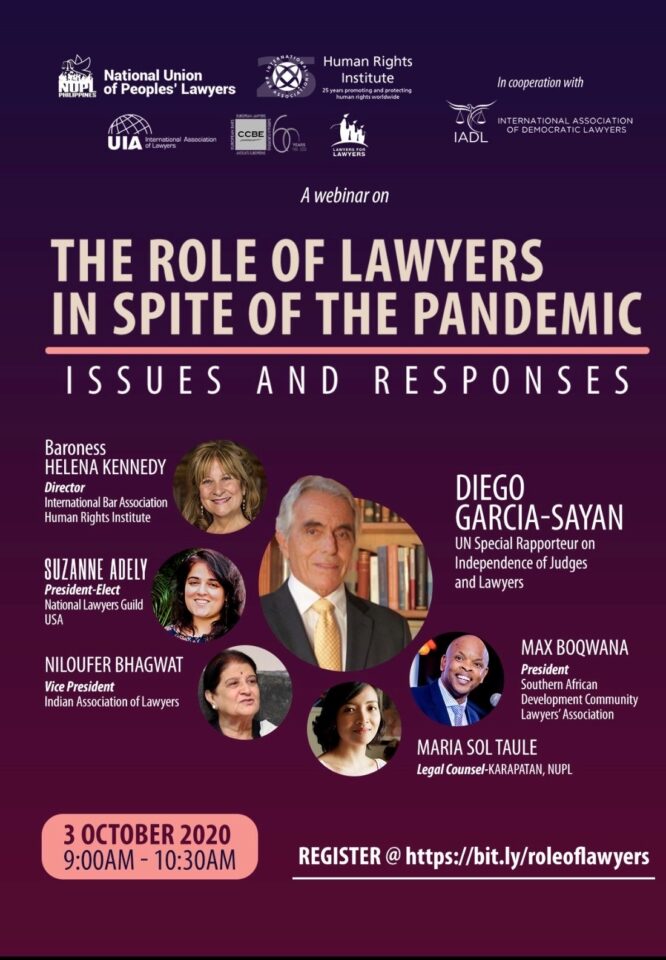 1 oktober 2020
Webinar: The role of lawyers in spite of the pandemic
During the COVID-19 pandemic, we saw a rise not only in the number of afflictions with the coronavirus, but also in violations of human rights all over the world. Thus, despite varying degrees of lockdowns and quarantines, lawyers became a species of frontliners whose services are considered essential.
The National Union of Peoples' Lawyers and the International Bar Association's Human Rights Institute will be shedding light on the lawyers' duties amid the pandemic in the webinar "The Role of Lawyers In Spite of the Pandemic: Issues and Responses" on October 3, 2020, 9:00-10:30 am Philippine time. The event is supported by Lawyers for Lawyers, the Council of Bars and Law Societies of Europe (CCBE), the Union Internationale de Avocats (UIA) and the International Association of Democratic Lawyers (IADL).
Those who wish to attend the virtual meeting are invited to register at: bit.ly/roleoflawyers
The webinar will be livestreamed via the Facebook pages of National Union of Peoples' Lawyers, Kodao Productions and EcuVoice Philippines.