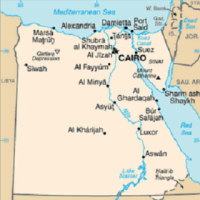 27 april 2020
Zyad al-Elaimy has been added to Egypt's 'terrorist list'
On 18 april 2020, Cairo's Criminal Court has ordered to put human rights lawyer Zyad el-Elaimy and 12 other detainees on Egypt's 'terrorist list' for a period of five years. This was reported by the FIDH.
Zyad al-Elaimy is a human rights lawyer, former MP and one of the leaders of the Egyptian Social Democratic Party.In March 2020, Zyad al-Elaimy was sentenced to one year in prison for "spreading false news with an intent to spread panic among the people and disturbing public peace" during a TV interview with the BBC in 2017.
The decision to add Zyad al-Elaimy to the 'terror list' was taken in the absence of Zyad al-Elaimy and his lawyer. Being added to the list entails the imposition of a travel ban, asset freezing, and disbarment from the Lawyers Syndicate and from any political party. Moreover, it has been reported that Zyad al-Elaimy was added to a new case, 571/2020, that is currently being investigated by the State Security Prosecutor. However, the charges still remain unknown.
Since 10 March 2020, Zyad- el-Elaimy has been denied any contact with his family since prisons visits stopped because of the COVID-19 pandemic. This is a worrying development since The Cairo Insitute of Human Rights reports the prison administration refuses to hand over a detailed statement of Mr. El-Elaimy's current health status to his family, despite local and international campaigns and demands.
Lawyers for Lawyers expresses it concern over the recent decision to add Zyad el-Elaimy to the 'terrorist list'. The Egyptian authorities are muzzling peaceful human rights defenders in the name of the fight against terrorism.