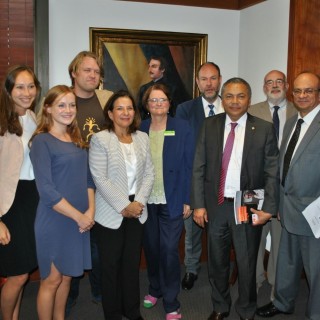 6 September 2016
Increase of threats against lawyers
On 2 October 2016, Colombians narrowly rejected the landmark peace deal between the Colombian government and the FARC. During the conclusion of the agreement, Wout Albers and Marit Balkema joined the 'Caravana Internacional de Juristas', a mission of lawyers, prosecutors and judges from 12 different countries took place at the request of endangered Colombian lawyers.
To assess how legal professionals are able to exercise their duties free from fear of attacks, the international delegation met with Colombian authorities, NGOs, the judiciary, the public prosecutor, lawyers and victims of the Colombian conflict in different Colombian regions. From their discussions it became clear that despite the current ceasefire, the threats against lawyers are increasing, especially against human rights lawyers who defend the rights of the victims of the armed conflict in remote areas. In the first six months of 2016, 35 human rights defenders were assassinated in Colombia. The violence also targets more and more often relatives of lawyers, judges and public prosecutors.
Because of the great personal risk, many lawyers refrain from working in the field of human rights. This seriously impedes access to justice for citizens. In the northern region of Bolivar, Adil Meléndez is only one of the few lawyers who still defends farmers, indigenous people and Afro-Colombian communities who have been forcibly displaced from their land and the only one who still works on cases with respect to the prosecution of paramilitaries. As a result, he cannot leave the house without bodyguards and a bulletproof vest. Despite the threats he is determined to continue his work "to uphold access to justice for the vulnerable populations most affected by human rights violations".
Participation in the mission contributes in various ways to the work of Lawyers for Lawyers. By bringing the results under international attention, Lawyers for Lawyers calls on to the adoption of effective measures to ensure the safety of Colombian lawyers. Many endangered lawyers believe that international pressure really helps, according to lawyer Jorge Molano, winner of the L4L Award in 2015, in fact even more than the armoured cars, armed bodyguards and bulletproof vests. He also said that the international delegation could play an important role in the implementation of the peace agreement, to support the United Nations in monitoring the safety of the lawyers who are assisting the victims of the conflict. The bonds with Colombian lawyers and other parties that Marit and Wout made, makes it for Lawyers for Lawyers in the future easier to stay on site to monitor the situation and act quickly when necessary. Joining this trip also contributed to an international network of organizations which, like Lawyers for Lawyers, are committed to lawyers in Colombia.