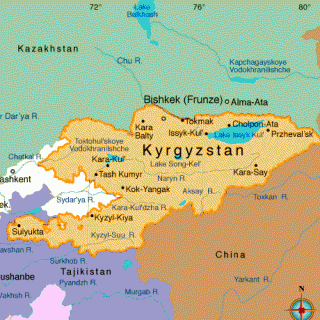 6 September 2013
Kyrgyzstan L4L condemns attacks during trial
Lawyers in Kyrgyzstan are regularly threatened and attacked by aggrieved audiences, after and even during court sessions. In the latest incident, on 20 August 2013, two lawyers were physically attacked just after a trial hearing related to the 2010 ethnic clashes. L4L calls on the Kyrgyzstan government to better protect its lawyers and ensure security at court sessions.

On 20 August 2013, lawyers Dinara Medetova and Kubanychbek Zhoroyev were the victims of a physical attack, following a hearing in the Osh Regional Court. The two lawyers are defending Makhamatkir Bizurukov, an ethnic Uzbek in  trial  related to the ethnic clashes that erupted in the south of the country on June 10, 2010.
It has been reported that Dinara Medetova and Kubanychbek Zhoroyev were repeatedly interrupted, insulted and threatened by members of the public in the course of the hearing. This created an atmosphere of intimidation, which prevented the lawyers from effectively defending their client. They also received death threats during the hearing, to which the judge did not respond. After the hearing, reports indicate that around ten women, supporters of the victims in the case, physically attacked the lawyers.
This attack took place despite an earlier written request by Dinara Medetova and Kubanychbek Zhoroyev submitted to the local Police Department, President of the Court and the Osh Regional Prosecutor that security measures be taken during the hearing, in light of attacks on the accused, witnesses and lawyers at a previous hearing in the same case.
This case strongly resembles the cases of Tahir Asanov  and Tatiana Tomina that L4L brought to the attention in November 2010 and August 2011. They were also the victim of intimidation and harassment in connection to their work as defence lawyers for ethnic Uzbeks, in trials related to the 2010 ethnic clashes.
L4L is concerned about the continuing violence towards lawyers in Kyrgyzstan in connection with their professional duties and called upon the Kyrgyzstan Government to immediately and seriously protect and support all lawyers in Kyrgyzstan.