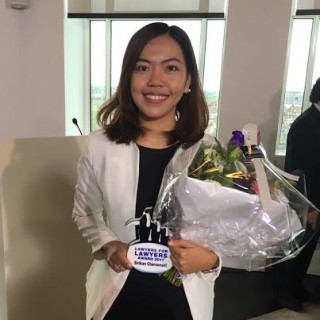 Award laureate 2017
Sirikan Charoensiri
On 19 May, Thai human rights lawyer Sirikan Charoensiri received the fourth L4L-Award in Amsterdam. The award was presented to her by Jorge Molano from Colombia, who received the award two years ago. Sirikan Charoensiri was the first woman to receive the L4L-Award.
Sirikan Charoensiri is the co-founder of Thai Lawyers for Human Rights (TLHR), a lawyers' collective founded shortly after the military coup on 22 May 2014 to provide legal aid and monitor the human rights situation in Thailand. As a human rights lawyer with TLHR, Ms. Charoensiri provides legal services in high-profile human rights cases on a pro bono basis. Within one year, Sirikan Charoensiri has been charged with four criminal offences in connection to her professional activities. If found guilty she could face up to at least 10 years of imprisonment. Furthermore, another case was initiated by the police against her, under charges of reporting false information for having filed a complaint of malfeasance in office against the police. If proceeded, she could face up to a maximum of 5 years imprisonment.
The prize is awarded to a lawyer or group of lawyers who have worked to promote the rule of law and human rights in an exceptional way and have been threatened because of this work.
During the presentation of the Award, there was special mention of the two lawyers who were on the jury's short list, Iyad Alami from the Occupied Palestinian territories and Dr. Mohamed al – Roken from the United Arab Emirates.
The Award was presented in the presence of colleague lawyers from all over the world at the end of the seminar 'The Voice of Rights, about lawyers and freedom of expression'. For this occasion lawyers Mark Stephens (United Kingdom), Sirikan Charoensiri (Thailand), Jorge Molano (Colombia) en Didar Erdem (Turkey)  had been invited to speak during the seminar, to share their experiences and knowledge regarding the central theme with those who were present.
The seminar and the presentation of the Award were broadcasted via a livestream, with the support of NEP webcasting. The livestream can still be viewed on-demand:
PART I: introductions and keynote speech
PART II: panel discussion and presentation Award
Please also view this video about shortlisted candidate Dr. Mohamed al-Roken:
Lawyers for Lawyers looks back with pride at the award ceremony and the seminar. L4L thanks Allen & Overy, NEP webcasting and the Amsterdam Bar Association, its volunteers and guests for their help, contribution and presence at the seminar.