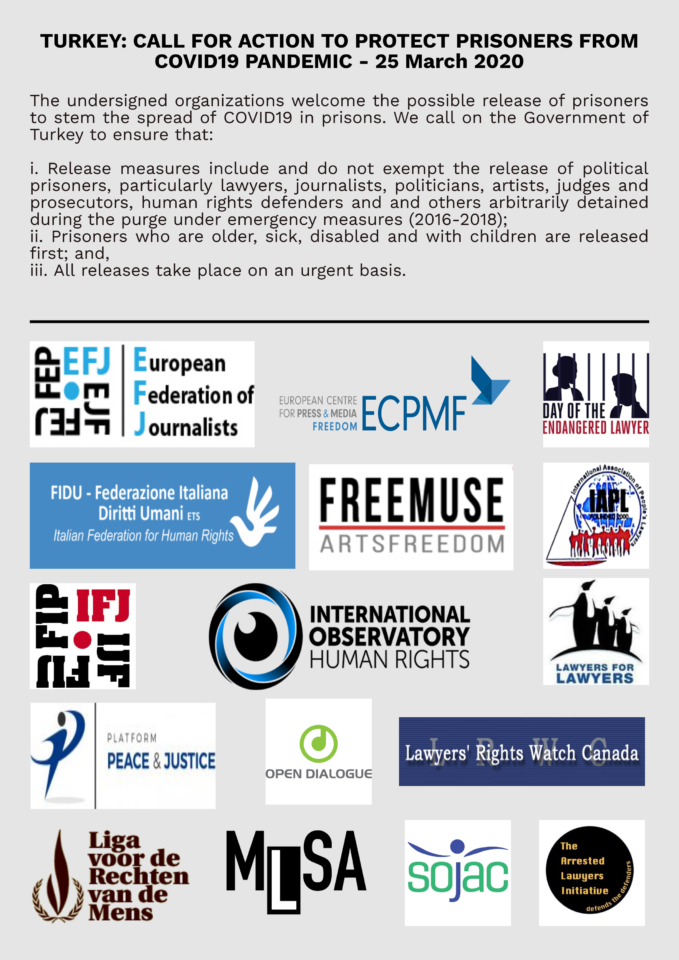 25 maart 2020
Joint statement: protect prisoners, including lawyers, from pandemic
Lawyers for Lawyers, together with fifteen other organisations, urged the Turkish Government not to exempt the release of political prisoners, particularly lawyers, journalists, politicians, artists, judges and prosecutors, human rights defenders and and others arbitrarily detained during the purge under emergency measures (2016-2018), in its forthcoming early parole bill.
On March 20, the European Committee for the Prevention of Torture urged State Parties to carry outconcerted efforts to resort to alternatives to deprivation of liberty. The Committee underlined that such an approach is imperative, in particular, in situations of overcrowding, and encouraged authorities to make greater use of: alternatives to pre-trial detention; commutation of sentences; early release and probation. 
Recently, it has been reported by the media that the government is preparing amendments to the penal system to allow the release nearly 100 thousand inmates in order to stem the spread of COVID19 in prisons. We applaud this action. However, according to media reports, those who have been imprisoned for certain charges including terror-related accusations will be exempted from benefitting this regulation. This means that amongst others, lawyers who were detained or convicted of terror-related accusations will not be benefiting of early release.
In a joint statement, the organizations call on the Turkish Government to avoid any discriminatory exemption, respect the fundamental human rights of all prisoners and ensure that all measures necessary to protect them from all kinds of harms including the COVID19 pandemic are immediately taken.