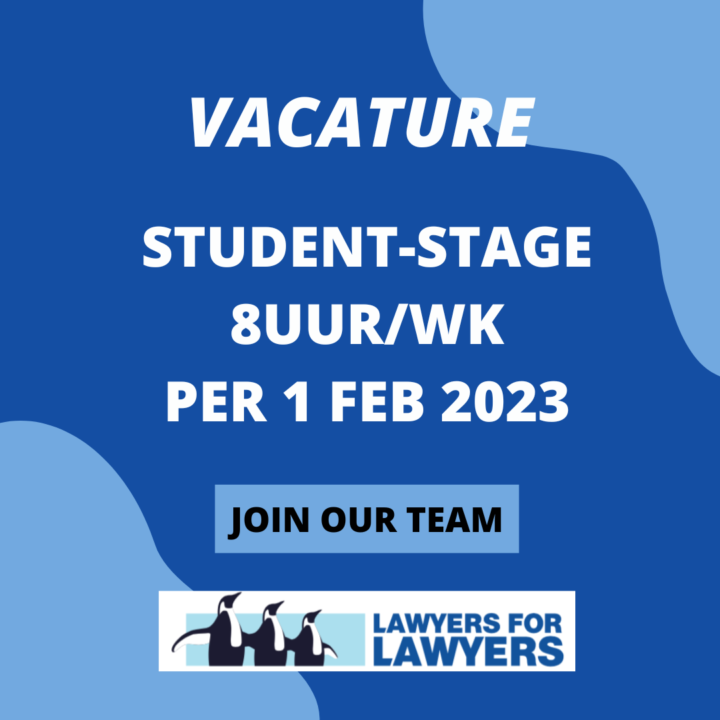 5 december 2022
Vacature student-stage
Gemiddeld 8 uur/wk, per 1 februari 2023
Wil jij het verschil maken voor bedreigde advocaten die opkomen voor de rechten van anderen? Wil jij leren hoe een NGO werkt en een netwerk opbouwen met advocaten van kleine en grote kantoren? En wil je dat doen in een jong, dynamisch en bevlogen team met projecten met een internationale focus? Lees dan verder!
Lawyers for Lawyers (L4L) komt op voor bedreigde advocaten. We helpen advocaten om hun taak als beschermer van de rechtsstaat vrij en onafhankelijk te kunnen uitoefenen en zetten ons in om vervolging van advocaten te voorkomen of te beëindigen. L4L bestaat uit een sterk bestuur, een klein kantoor en een netwerk van ongeveer 70 advocaten in Nederland (verdeelt over focusgroepen die focussen op bepaalde landen/werelddelen), die zich vrijwillig sterk maken voor meer dan 150 collega's over de hele wereld.
Wat ga je doen?
Voor een aantal focusgroepen zijn wij op zoek naar in totaal vier stagiaires. Iedere stagiair werkt mee aan de verschillende acties in deze gebieden en ondersteunt de focusgroepen facilitair:
Het voorbereiden en bijwonen van focusgroepvergaderingen (plannen, notulen, actiepunten);

Het doen van onderzoek naar de positie van advocaten en vestigen en uitbreiden van ons netwerk in het focusland;

Follow-up geven aan hetgeen is afgesproken in de focusgroepvergadering, waaronder het opstellen van brieven, landenpagina's bijwerken en meewerken aan bijdragen voor de VN;


Het spreken van advocaten uit het buitenland in Nederland en desgewenst in contact brengen met ons netwerk.
Wat vragen wij van jou?
Je hebt affiniteit met het werk en de missie van Lawyers for Lawyers;

Je bent leergierig, resultaatgericht, analytisch en kunt zelfstandig werken;

Je vindt het leuk om onderzoek te doen en gegevens te analyseren;

Je hebt ervaring met het organiseren van events en kan goed plannen;

Je volgt een universitaire opleiding (of doet een tussenjaar), bij voorkeur op het gebied van internationaal publiekrecht/ mensenrechten;

Je hebt een goede (zakelijke) schrijfvaardigheid in het Engels;

Kennis van een derde taal zoals Frans, Russisch of Arabisch wordt gewaardeerd;

Voorkennis van de onderwerpen is niet vereist, interesse natuurlijk wel!
Wat bieden wij jou?
De kans om bij te dragen aan een belangrijk internationaal project, dat waardevol is voor de organisatie en een positieve impact heeft op de wereld;

De kans om je bekend te maken met praktische tools en beleid binnen NGO's;

De kans om contacten te leggen met verschillende advocaten en advocatenkantoren;

De vrijheid om zelfstandig te werken;

Een gezellig team met een informele sfeer;

Een goede begeleiding waarbij we je actief (online) coachen.
Interesse?
Lijkt deze stage je wat? Je kunt vanaf 1 februari 2023 starten voor 4-6 maanden voor 8 uur per week. Je zult werken vanuit ons kantoor bij de Universiteit van Amsterdam op Roeterseiland. Je bent in ieder geval een halve dag per week aanwezig op kantoor. De overige uren zijn flexibel in te richten. Vergaderingen zullen zowel online als fysiek plaatsvinden. Stuur je motivatiebrief en CV naar info@lawyersforlawyers.nl voor 8 januari 2023.
Je kunt ook terecht bij ons voor vragen over de vacature. Het sollicitatiegesprek zal online plaatsvinden.