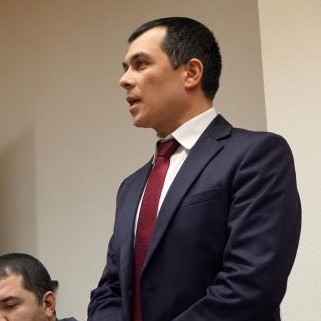 8 december 2018
Emil Kurbedinov sentenced to administrative detention
On 7 December 2018, human rights lawyer Emil Kurbedinov was sentenced to 5 days of administrative detention by the Kievsky district court of Simferopol. He was charged with "propagandising for extremist organisations" in relation to a 2013 social media post. This was reported by Frontline Defenders on their website.
Emil Kurbedinov is a human rights lawyer working in Crimea. He is actively involved in defending the rights of Crimean Tatars, who since the occupation of Crimea by the Russian Federation have become a target for the authorities. He has been drawing public attention to human rights violations in Crimea by using both social media and international conferences. He is the winner of the 2017 Frontline Defenders Award for Human Rights Defenders at Risk.
On 6 December 2018, Kurbedinov was arrested by officers of the Centre for Counteracting Extremism. The next day he was sentenced under Article 20.3 of the Administrative Code of the Russian Federation for "propagandising for extremist organizations" to 5 days of administrative detention. The charges are related to a repost on his social media account in 2013 showing a video of the organization Hizb ut-Tahrir. This is an organization that is banned under Russian legislation. Hizb ut-Tahrir is not a banned organization under Ukrainian law. Last year, on 26 January 2017, Kurbedinov was also arrested and sentenced to 10 days of administrative detention for exactly the same social media post.
Before his arrest, on November 6, Kurbedinov received a formal warning "on prevention of extremist activity" by a representer of the Prosecutor Office. Similar warnings were received by human rights lawyers Edem Semedliaev and Lilia Gemedzhi on 27 October 2018 during a meeting of the Crimean Solidarity movement.