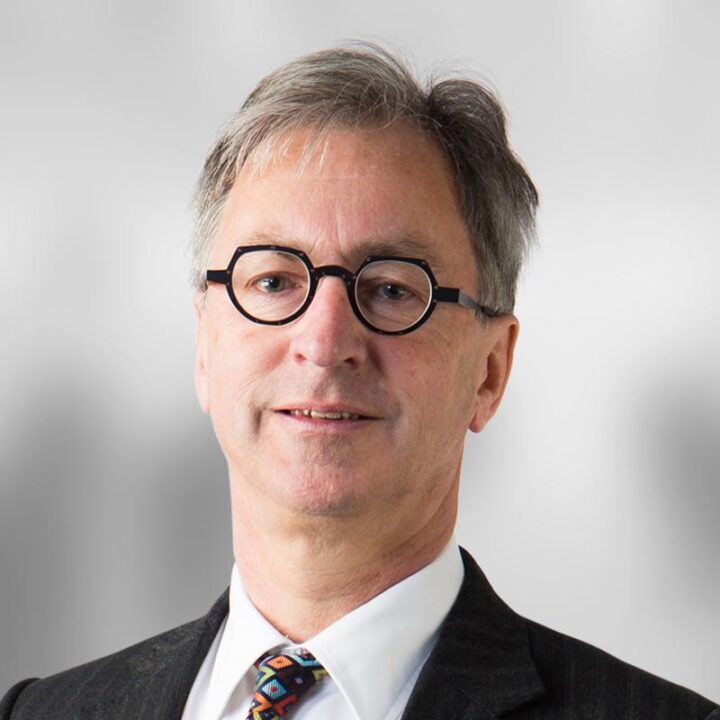 15 maart 2021
In Profiel: Jaap Koster
Jaap Koster is na een bloemrijke carrière in de advocatuur bij Houthoff en Clifford Chance momenteel consultant bij het laatstgenoemde kantoor. De uren die hierdoor vrijkwamen werden al snel gevuld met vrijwilligerswerk bij Lawyers for Lawyers, bestuurlijke nevenfuncties binnen de culturele sector en experimenteren in de keuken. Ik spreek met Jaap over zijn carrière tot nu toe, wat hij doet bij Lawyers for Lawyers en over rechtvaardigheid in algemene zin.
Door: Koen Hoogendoorn
Jaap zit ontspannen in zijn thuiswerkkantoor wanneer ik hem virtueel spreek via Microsoft Teams. Jaap komt op mij over als een expert, iemand die weet wat hij doet en waar hij voor staat. Dit blijkt ook uit zijn carrière waarin hij heel gefocust bleef op de advocatuur, met een enkele wisseling van kantoor na 22 jaar dienst bij Houthoff toen hij vertrok naar Clifford Chance. Jaap was al lang bekend met Lawyers for Lawyers en droeg de organisatie ook een warm hart toe. Maar door zijn toewijding naar de advocatuur bleven er te weinig uren op de dag over om eerder iets te kunnen betekenen voor de organisatie.
Aangezien men bij Clifford Chance uit de maatschap treedt na de leeftijd van 60, ontstond de ruimte voor andere bezigheden naast het werk anderhalf jaar geleden wél. Kort daarna nam Jaap contact op met Lawyers for Lawyers om te zien wat zij voor elkaar konden betekenen. Een plek werd gevonden bij de focusgroep Turkije waarbij Jaap zelfs naar Turkije is afgereisd om drie dagen rechtszaken tegen advocaten bij te wonen en met deze advocaten, of anderen die vastzitten, te spreken.
Wat Jaap het meest in het oog sprong als verschil tussen rechtszaken in Nederland of Turkije? 'In Turkije zie je dat veel zittingen worden uitgesteld om procedurele redenen. Er lijkt altijd wel iets tussen te komen, waardoor de zitting kan worden verplaatst. Ik denk niet dat dit een administratief probleem is, maar juist een bewuste zet van Turkse rechters. Via deze weg kan er wat tijd worden gewonnen voordat de uitspraak moet worden gedaan, met de hoop dat een andere rechter uiteindelijk de uitspraak moet doen. Dit, omdat rechters in Turkije zelf ook weten dat de beslissingen die zij moeten nemen volgens het politieke regime niet altijd rechtvaardig zijn', contempleert Jaap.
Jaap is na een half jaar vrijwilligerswerk bij Lawyers for Lawyers naar Genève afgereisd om de Universal Periodic Review van de Verenigde Naties namens Lawyers for Lawyers bij te wonen. 'Je fungeert dan min of meer als een marktkoopman die in een kwartier 'pauze' tijd zijn waren probeert te verkopen bij de meest belangrijke kopers. Bijvoorbeeld bij een land als de Verenigde Staten waarbij je producten de rechten van advocaten zijn', zegt Jaap over het lobbyen bij de UPR. Zijn reis naar Genève combineerde Jaap met een bezoek aan de Permanente Vertegenwoordiging van Nederland bij de Verenigde Naties, waarin hij in gesprek ging met een Nederlandse vertegenwoordiger.. 'Je merkt dat diplomaten, politici en ministers heel benieuwd zijn naar wat je namens Lawyers for Lawyers te zeggen hebt. Het is informatie waar zij zelf vaak niet bij kunnen komen. Daardoor wordt Lawyers for Lawyers internationaal gezien erg gewaardeerd door organisaties zoals de VN maar ook door het Ministerie van Buitenlandse Zaken', aldus Jaap over de invloed van Lawyers for Lawyers.
Over waarom Jaap zich uiteindelijk bij Lawyers for Lawyers heeft aangesloten zegt hij nog het volgende: 'De reden dat ik mij bij Lawyers for Lawyers wilde aansluiten is natuurlijk om advocaten te ondersteunen, maar zeker ook dat ik zie dat zelfs in eigen omgeving de rechtsstaat niet meer iets is wat vanzelfsprekend is. De rechtsstaat is iets kostbaars en bijzonders, dit moeten we niet voor lief nemen. Een volmaakte rechtvaardige samenleving bestaat niet, maar je kunt er wel zo dichtbij mogelijk komen', concludeert Jaap Koster.