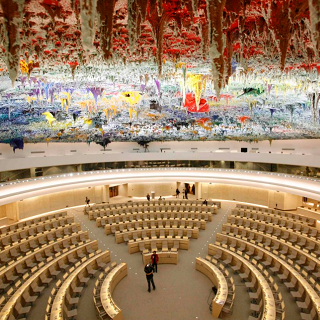 19 maart 2015
Regering moet de daad bij het woord voegen
Kazachstan moet de effectieve uitvoering van maatregelen om de rol van advocaten te versterken versnellen, heeft Lawyers for Lawyers vandaag gezegd.
Lawyers for Lawyers, mede namens The Law Society of England and Wales en Lawyers' Rights Watch Canada, bracht een mondelinge verklaring uit de VN Mensenrechtenraad bij de behandeling van de uitkomsten van de UPR van Kazachstan.
Lawyers for Lawyers juicht de inzet van Kazachstan om de onafhankelijkheid van de rechterlijke macht en de rol van de advocaten te verbeteren toe. Tegelijkertijd deed L4L een beroep op de autoriteiten om de effectieve uitvoering van de maatregelen die nodig zijn om deze doelen te bereiken te versnellen.
Uit de praktijk blijkt dat het openbaar ministerie een dominante rol speelt in de gerechtelijke procedures. Als gevolg hiervan bevinden advocaten zich niet in een gelijkwaardige positie om hun cliënten te vertegenwoordigen.
Advocaten hebben ook te maken met 'interim orders', uitgegeven door rechters, die kunnen leiden tot disciplinaire sancties. Verschillende advocaten werden van het tableau geschrapt, of zijn onderwerp van disciplinaire procedures, op oneigenlijke gronden. Bovendien zijn advocaten in Kazachstan het slachtoffer van bedreigingen en fysieke aanvallen in verband met hun werk. Ook worden zij onderworpen aan strafrechtelijke procedures en zelfs psychiatrische opsluiting.
Zinaida Mukhortova, al meer dan tien jaar mensenrechtenadvocaat in Kazachstan, werd herhaaldelijk gedwongen opgenomen in een psychiatrische inrichting, voor de laatste keer op 2 juli 2014. L4L juicht haar vrijlating uit het psychiatrisch ziekenhuis toe, maar riep Kazachstan op om ervoor te zorgen dat gedwongen psychiatrische opsluiting zal voldoen aan internationale normen.
Meer nieuws uit Kazakhstan