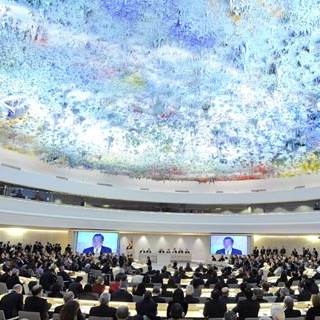 19 maart 2015
Wetsontwerp moet conform Basic Principles
Lawyers for Lawyers heeft vandaag bijgedragen aan de Universele Periodieke Review van Iran, door haar zorgen omtrent het wetsontwerp dat de advocatuur en de advocatenorde moet reguleren in te brengen. Dit wetsontwerp zou de onafhankelijkheid van advocaten in Iran in verregaande mate beïnvloeden. Samen met Lawyers' Rights Watch Canada deed L4L de aanbeveling dat deze wet zorgvuldig moet worden vergeleken met hetgeen is bepaald in de Basic Principles on the Role of Lawyers en daarmee in overeenstemming worden gebracht.
Daarnaast herhaalde L4L haar verzoek aan president Rouhani, wat ze hem op de recentelijke dag van de advocaat in Iran deed per brief, om de zaken van zeven gedetineerde advocaten te herzien. De president stelde recent dat "een advocaat gevrijwaard moet zijn van vervolging vanwege het uitvoeren van zijn professionele plicht en de onderzoeksautoriteit voor professionele vraagstukken de advocatenorde moet zijn".
Lees het volledige statement hier na.