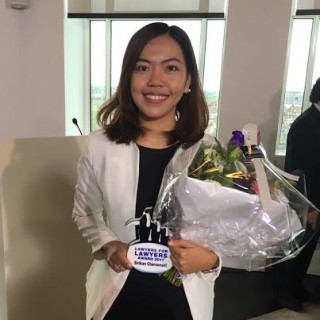 26 mei 2017
Award uitgereikt aan Sirikan Charoensiri
Op 19 mei 2017 heeft de Thaise mensenrechtenadvocaat Sirikan Charoensiri (June) de vierde L4L-Award in ontvangst genomen in Amsterdam. Zij ontving de prijs uit handen va Jorge Molano uit Colombia, die de prijs twee jaar geleden ontving. Sirikan Charoensiri is de eerste vrouw die de L4L-Award heeft ontvangen.
Sirikan Charoensiri is medeoprichter van Thai Lawyers for Human Rights (TLHR), een advocatencollectief dat kort na het einde van de militaire staatsgreep op 22 mei 2014 werd opgericht. Het collectief heeft als doel juridische hulp te verlenen en toe te zien op de mensenrechtensituatie in Thailand. Sirikan Charoensiri verleent juridische bijstand in high-profile mensenrechtenzaken op een pro bono basis. In slechts één jaar tijd werd zij aangeklaagd voor maar liefst vier strafbare feiten die verband houden met haar professionele activiteiten. Als zij schuldig wordt bevonden aan deze vier aanklachten, hangt haar een gevangenisstraf van tenminste 10 jaar boven het hoofd. Daarnaast initieerde de politie nog een zaak tegen haar op beschuldiging van het 'indienen van valse informatie', omdat zij een klacht had ingediend tegen de politie. Als deze zaak wordt voortgezet, kan zij veroordeeld worden tot maximaal 5 jaar gevangenisstraf.
De L4L-Award is bestemd voor een advocaat of groep advocaten die door hun werk de rechtsstaat en de mensenrechten op een uitzonderlijke manier bevorderen en vanwege dat werk worden bedreigd. De jury heeft zich bij haar keuze voor Sirikan Charoensiri laten leiden door haar "unwavering courage and commitment" en "to draw attention to the human rights situation in Thailand that is relatively unknown in the West".
Voorafgaand aan de uitreiking werd stilgestaan bij de vele andere genomineerden. Speciale aandacht was er voor de twee andere genomineerden die op de shortlist van de jury stonden:Iyad Alami uit de Occupied Palestinian territories  en Dr. Mohamed al – Roken uit de Verenigde Arabische Emiraten.
De prijs werd uitgereikt in het bijzijn van collega-advocaten van over de hele wereld tot besluit van het seminar 'The Voice of Rights, about lawyers and freedom of expression'. Voor deze gelegenheid waren de advocaten Mark Stephens (Verenigd Koninkrijk), Sirikan Charoensiri (Thailand), Jorge Molano (Colombia) en Didar Erdem (Turkije) samengebracht, om hun ervaringen en kennis met betrekking tot het centrale thema met de aanwezigen uit te wisselen.
Dit jaar waren het seminar en de uitreiking voor het eerste te bekijken via live-stream, met dank aan NEP webcasting. De live stream is nu on demand terug te kijken.
DEEL I: introductions and keynote speech
DEEL II: panel discussion and presentation Award
Het gehele programma van de dag kunt u hier terugvinden.
Lawyers for Lawyers kijkt met trots terug op de uitreiking van de L4L-Award en het seminar. Wij bedanken Allen & Overy, NEP webcasting en de Amsterdamse Orde van Advocaten, onze vrijwilligers en gasten voor hun hulp, inbreng en aanwezigheid.