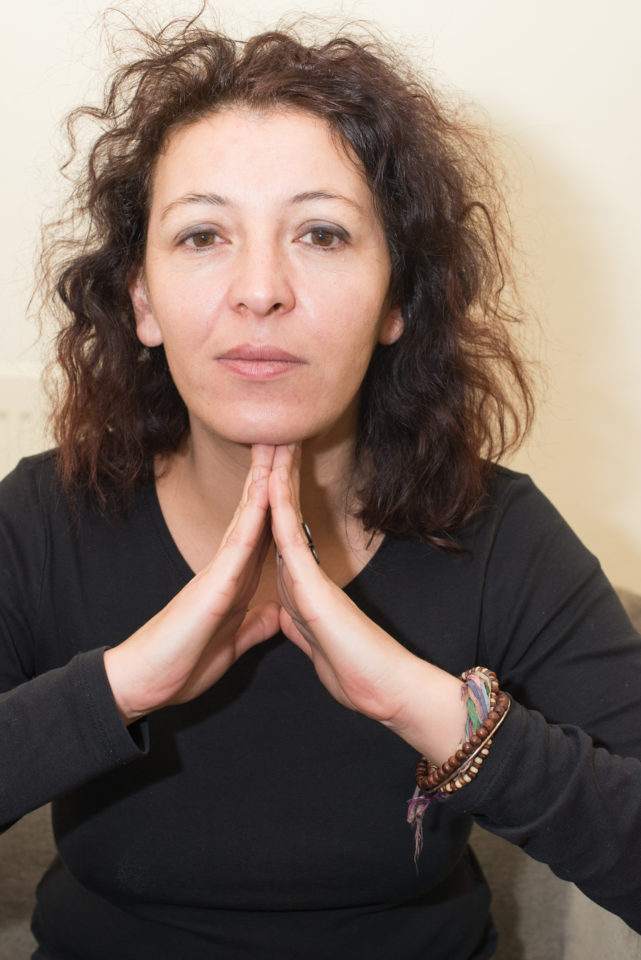 12 december 2019
Şerife Ceren Uysal: working towards change for Turkey
"You can keep one generation in jail. But not the next one"
Text: Johan van Uffelen
Photo: Peter Beijen
Turkish lawyer Şerife Ceren Uysal was invited to the Netherlands by Lawyers for Lawyers for International Human Rights Day on 10 December. On that day, the #FreeTheLawyers Campaign was launched to highlight the cases of unjustly detained lawyers. One of the lawyers featured in the campaign is Selçuk Kozağaçlı from Turkey. Selçuk received the 2019 Lawyers for Lawyers Award while behind bars and sentenced to more than eleven years imprisonment. Ceren, a human rights lawyer and activist herself, represented him at the award ceremony. ,,I have ideals, but I am not an idealist. Reality shows that in history oppression always loses against the will of the people"
Ceren (37) and her partner left Turkey soon after the proclamation of the state of emergency in 2016. She now lives in Vienna and was guest researcher at the Ludwig Boltzmann Institute for Human Rights in Austria. She chose to continue her fight in exile.
 ,,No, no", she says with total conviction. ,,Some call it exile, but I do not feel like that at all. It was my personal decision. I felt uncomfortable, I sensed that something ominous was imminent. But using the word 'exile' makes my position far too dramatic. I can live in freedom now, I can speak freely, I do not run an immediate risk of harassment. That is incomparable with what is happening to my colleagues in Turkey." A modest smile. ,,My story is not a sad one. I do not want the emphasis to be on me, while so many others need attention."
Human dignity
Ceren studied law at Istanbul University and became a lawyer in 2007, focusing on labour law. With a meaningful expression: ,,As an extension of this, in Turkey you soon move into human rights". As a student she became a member of the Cagdas Hukukcuklar Dernegi (CHD), the Progressive Lawyers Association, which advocates the prevention of all types of attacks on fundamental rights and human dignity.
,,When I was a student, Selçuk and other colleagues were trying to set up a union for lawyers. This is how we have met. Years later we were on the same executive board, when CHD was proclaimed a terrorist organization during the state of emergency. Officially we were allowed to re-establish under another name, but that is a sham. Nevertheless, we continue to do what we think we need to do. We will organize our General Assembly next January!"
In Vienna Ceren is studying for her master's degree. Currently she is involved in gender studies and  has a busy diary  full of meetings and conferences to call attention to the undermining of the rule of law in Turkey.
What would have happened if you had stayed?
 ,,Maybe that choice would have ended up with me in prison. Or at least they would have found reasons to cancel or ban my passport".
 And what if you returned now?
  ,,I am a board-member of the CHD… Imprisonment might be the case." And then, suddenly she consciously contradicts herself. ,,I have no idea. I really don't have any idea. For that is precisely the core of the problem in Turkey. Citizens simply don't know what will happen when they do so or so.
On 20 May the Heavy Penal Court in Istanbul convicted Selçuk, together with seventeen other lawyers, of terrorism related crimes. He was sentenced to 11 years 3 months in prison. How is he doing now?
,,The first period he was in isolation. That really affected him". With a bitter smile, as if that would make the circumstances very different: ,,He has cellmates now". She emphasises that there is no evidence at all that he violated Turkish law. ,,He is not a criminal, he is not a terrorist. He just defends vulnerable people. The ones who normally don't have access to lawyers, who don't have people who defend them."
To indicate how bizarre the whole situation is: ,,It is not his first time in jail. In 2013 he was 14 months in pre-trial detention. Before that decision he was abroad for the association. But he decided to return  home and even informed the authorities  which flight he would return on. At the airport he was arrested immediately. Do you know the grounds? The risk of escape.."
This year he was released for one day. The judge ruled that his detainment was in violation of European human rights law. But he was arrested again and the same judge made another decision, based on the risk of escape." And she continues: ,,An estimated 4.500 judges and prosecutors have been dismissed, currently about 3.000 of them are in jail. That has in immense effect on the jurisdiction as such. For, you know, the ones not in prison are in fact mentally arrested. They are afraid of being objective. In fact they are working on behalf of the government." She sighs and raised her hands: ,,This totalitarianism is affecting all aspects of everyday life."
How important is the support of international NGOs like Lawyers for Lawyers?
 ,,These expressions of solidarity are very significant.. it gives strength to the 600 lawyers in jail. They know that they will not be forgotten. Having trial observers has an effect on the course of a case. You should know that  procedures are often completely violated. For instance when the judges give the accused only five minutes time to speak, the trial observers hear these words and can raise awareness about the case outside the court.
Although she talks kindly and smiles, she is emotional. After the interview she needs another cigarette. ,,Young lawyers can be very afraid. But when they see observers from the Netherlands or, from Italy, they feel they are not alone.."
What are your expectations for the near future?
,,More than half of Turkey wants change. During the last elections Erdogan's party lost almost ten big cities. In 2013 over five million people were on the streets.. We should be hopeful. Also the feminist movement is very strong. Have you seen the pictures of the protests on 25 November? These are strong women, they will never stop."
At the Award ceremony you quoted Selçuk: ,,He always ends his speeches and his letters with these  words: 'We are right. We are totally right. We will win'" Is that what you also believe?
,,Yes. For sure, yes". She strokes her dark red, curly hair back with both hands and looks up. ,,All over the world there is a tendency towards conservatism and authoritarian leadership. So, we need a broad movement against it, just like the environmental movement. The ones in power have the structures, their weapons and injustice. But I believe that  everything is progressing. The past shows us that you can never overcome a people with oppression and fear. Where there exists repression and occupation, there also will be resistance." Combative: ,,You can keep one generation in jail. But not the next one"
© Article: Johan van Uffelen/ Photo: Peter Beijen
Disclaimer: The views expressed in this interview are those of the interviewee and the author and do not necessarily reflect those of Lawyers for Lawyers.