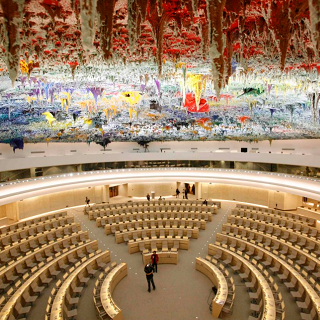 23 september 2015
Thailand en Tadzjikistan Lawyers for Lawyers dient twee UPR reportages in
Thailand
In het rapport over Thailand wijst Lawyers for Lawyers op het falen van de Thaise autoriteiten om toegang tot rechtsbijstand geboden door een onafhankelijke advocatuur te waarborgen, zoals is uiteengezet in de VN Basic Principles on the Role of Lawyers. Advocaten die werken aan high-profile zaken zijn het slachtoffer van intimidatie of inmenging. Wanneer advocaten het onderwerp zijn van intimidatie of andere schendingen, moeten de Thaise autoriteiten ervoor zorgen dat deze schendingen effectief worden onderzocht. De zaak van Somchai Neelapaijit illustreert echter dat de Thaise autoriteiten er niet in slagen om de straffeloosheid van misdaden waar mensenrechtenadvocaten het slachtoffer van worden, aan te pakken.
Ook heeft Lawyers for Lawyers zorgen geuit over de voortdurende onderdrukking van de vrijheid van meningsuiting, vereniging en vergadering in het land. Sinds het in werking treden van 'Order No. 3/2558', valt uit het patroon van arrestaties en vervolgingen af te leiden dat kritiek op de NCPO, verspreiding van informatie, deelname aan openbare bijeenkomsten en deelname aan het publieke debat, worden beschouwd als bedreigingen van de nationale veiligheid. Het leger heeft zelfs educatieve evenementen over mensenrechten in Thailand, georganiseerd door Thai Lawyers for Human Rights, geannuleerd.
Klik hier voor het volledige rapport.
Tadzjikistan
In het rapport over Tadzjikistan, uit Lawyers for Lawyers zorgen over het feit dat advocaten die werken aan high-profile zaken het onderwerp zijn van bedreigingen of fysiek geweld, intimidatie en ongepaste inmenging door openbaar aanklagers of leden van wetshandhavingsinstanties. Advocaten lijken te worden gezien als een belemmering voor het werk dat deze instanties verrichten. Tevens worden advocaten geïdentificeerd met hun cliënten. Dit wordt geïllustreerd door de zaak van Shukrat Qudratov.
Daarnaast heeft Lawyers for Lawyers zorgen geuit over de inwerkingtreding van de Law of the Republic of Tajikistan on Advocacy and the Bar in maart 2015. Lawyers for Lawyers verwelkomt de inspanningen van de Tadzjiekse overheid om een Nationale Orde op te richten. Echter, bepaalde onderdelen van deze wet baren Lawyers for Lawyers zorgen, omdat zij de onafhankelijkheid van de advocatuur zouden kunnen ondermijnen.
Klik hier voor het volledige rapport.