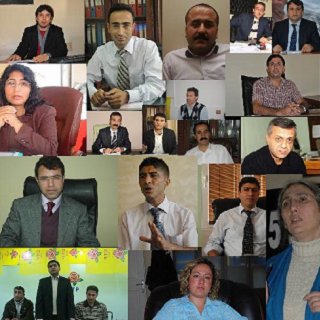 15 mei 2015
Lawyers for Lawyers neemt zittingen waar in Istanbul
Deze week was Lawyers for Lawyers in Turkije, om wederom 2 zittingen waar te nemen in de zaken waarbij een groot aantal advocaten vervolgd worden. In een van de zaken werd de zitting verdaagd tot oktober 2015.
Lawyers for Lawyers nam op 7 en 13 mei 2015 in Istanbul zittingen waar in de processen tegen Turkse advocaten. Op 7 mei vond het proces plaats tegen de 46 Turkse advocaten die drie jaar geleden werden gearresteerd op verdenking van lidmaatschap van een terroristische organisatie. Lawyers for Lawyers heeft alle zittingen in dit proces waargenomen (juli en november 2012, januari, maart, juni, september en december 2013 en november 2014).
In 2012 startte de zaak bij een speciale rechtbank. In 2014 werden deze speciale rechtbanken bij wet afgeschaft en de lopende strafzaken doorverwezen naar de gewone rechtbank in de stand van zaken van dat moment. De verdediging van de 46 advocaten acht dat in strijd met de Grondwet en internationale bepalingen en heeft daarom de rechtbank verzocht dit ter beoordeling voor te leggen aan het Constitutionele Hof. De rechtbank wees dit verzoek (opnieuw) af, maar hield de zaak aan tot 22 oktober 2015 in afwachting van een uitspraak in een andere zaak over wel of geen doorverwijzing naar het Constitutionele Hof.
Achtergrond van deze zaak
Op 22 november 2011 werden 46 advocaten gearresteerd op verdenking van  'het werken voor, of behoren tot, een terroristische organisatie'. De Turkse autoriteiten beschouwen de KCK als de stedelijke vleugel van de verboden Koerdische Arbeiderspartij PKK. Het overgrote deel van de verdachte advocaten is bij de verdediging van de gevangen PKK-leider Abdullah Öcalan betrokken geweest. Volgens het Openbaar Ministerie hebben de verdachten instructies van Adbullah Öcalan doorgegeven aan zijn achterban en zijn zij lid van een terroristische organisatie. Volgens de verdediging is hiervoor geen bewijs.
Na de sluiting van de speciale rechtbanken en de verlaging van de maximale duur van voorlopige hechtenis naar 5 jaar zijn op 18 maart 2014 de laatste negen advocaten en een journalist in deze zaak vrijgelaten. Zij zaten bijna 2 ½ jaar, sinds november 2011, in voorlopige hechtenis.