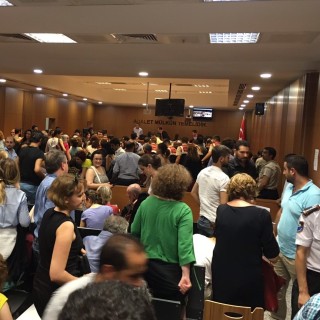 29 juni 2016
Nieuw proces tegen advocaten: Ramazan Demir en Ayse Acinikli blijven in gevangenis
Op woensdag 22 juni 2016 begon in Istanbul de strafzaak tegen twaalf advocaten en aantal leden van TUHAD-FED, een hulporganisatie die fungeert als intermediair tussen gevangenen, familieleden en advocaten. Zij waren op 16 maart 2016 gearresteerd en enkele dagen later weer vrijgelaten, maar advocaten Ramazan Demir en Ayşe Acinikli werden op 6 april 2016 opnieuw gearresteerd. Bij aanvang van het proces zaten Demir, Acinikli en 6 leden van TUHAD-FED nog in voorlopige hechtenis.
Alle verdachten worden beschuldigd van het lidmaatschap van een terroristische organisatie. Ramazan Demir wordt tevens beschuldigd van het bedrijven van terroristische propaganda naar aanleiding van zijn tweets over de klachten die hij had ingediend bij het Europees Hof voor de Rechten van de Mens over mensenrechtenschendingen in Zuidoost-Turkije.
De beschuldigingen tegen advocaten Ramazan Demir, Ayse Acinikli, Irfan Arason, Huseyin Bogatekin, Sefik Celik, Adem Calisci, Tamer Dogan, Mustafa Ruzgar, Ayse Gosterislioglu, Sinan Zincir, Raziye Oztuk en Rusen Mahmutoglu hangen naar verluidt samen met hun activiteiten in 2011 en 2013 tijdens bijvoorbeeld de Gezi-protesten. Andere aantijgingen zouden betrekking hebben op hun bezoeken aan gedetineerde cliënten en het onderhouden van contacten met internationale organisaties. Tijdens de hoorzitting werd door de verdachten en hun advocaten uitvoerig ingegaan op het bewijs, of liever gezegd het gebrek daaraan.
De officier van justitie vroeg de rechtbank om alle gevangenen vrij te laten. Maar de rechter weigerde om de voorlopige hechtenis van Ramazan Demir, Ayse Acinikli en 4 andere gevangenen op te heffen, vanwege vluchtgevaar.
De officier van justitie beweerde dat de advocaten niet worden vervolgd vanwege hun professionele activiteiten en dat hij om die reden de wettelijk vereiste toestemming van de minister van Justitie om een ​​onderzoek tegen advocaten beginnen, niet heeft gevraagd. Het argument van de advocaten van de verdediging, dat de zaak vanwege het ontbreken van deze toestemming niet-ontvankelijk verklaard zou moeten worden, werd echter door de rechter verworpen.
Lawyers for Lawyers maakt zich zorgen over deze ontwikkelingen en wijst erop dat, zoals de advocaten en hun raadslieden al tijdens de zitting aanvoerden, de verdediging van cliënten in de strafprocedure, bezoek aan cliënten in de gevangenis en het indienen van zaken bij het Europees Hof over mensenrechtenschendingen horen tot de kernactiviteiten van het beroep van de advocaat. Ook hebben advocaten recht op vrije meningsuiting en kunnen zij deelnemen aan het publieke debat over kwesties met betrekking tot de wet, de rechtspraak en de bevordering en bescherming van de mensenrechten. Zij hebben tevens het recht om lid te zijn van (internationale) organisaties of deze te vormen. Dit alles is uitdrukkelijk neergelegd in artikel 23 van de VN Basic Principles on the Role of Lawyers.
De zitting werd uitgesteld tot 7 september 2016. Lawyers for Lawyers zal deze zaak op de voet te volgen en wij zullen onze collega's in Turkije blijven steunen.