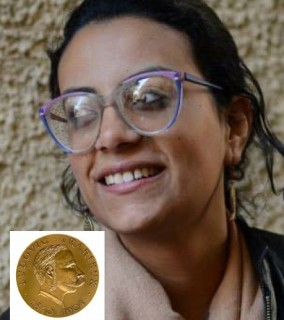 2 juli 2014
Mahienour el-Massry krijgt Ludovic Trarieux prijs toegekend
Op 25 juni heeft de jury van de Ludovic Trarieux mensenrechtenprijs aangekondigd dat de prijs dit jaar wordt toegekend aan mensenrechtenadvocaat Mahienour el-Massry uit Egypte. Momenteel zit zij een gevangenisstraf van 2 jaar uit, voor het organiseren van een vreedzaam protest
Lawyers for Lawyers schreef in juni 2014 een brief aan de autoriteiten van Egypte om zorg te uiten over de detentie van El-Massry. Naast haar huidige veroordeling tot een gevangenisstraf, wordt zij vervolgd voor het "aanvallen van veiligheidstroepen". In maart 2013 ging El-Massry samen met andere advocaten naar politiebureau Raml om juridische bijstand te verlenen aan drie activisten die waren gearresteerd en naar de politie waren gestuurd door aanhangers van het Moslim Broederschap. De advocaten werden aangevallen door de politie in het politiebureau.
Update 22 juli 2014
Volgens onze bronnen, heeft op 20 juli 2014, na herhaaldelijke verdagingen, de Sidi Gaber Appeal Misdemeanour Court in Alexandria besloten om de gevangenisstraf van Mahienour El-Massry  van twee jaar terug te brengen naar zes maanden. Zij zit vast voor "protest zonder vergunning" en "belediging van de beveilingsdiensten".
Helaas heeft het hof haar geldboete van EGP 50.000 (ongeveer EUR 5.143) niet verminderd. Mahienour El-Massry wordt gevangen gehouden in de Damanhour gevangenis sinds 20 mei 2014 en heeft dus reeds twee maanden van haar straf uitgezeten.
Daarnaast zal El-Massry berecht worden voor een ander incident uit maart 2013. Op 21 juli 2014 was er een zitting in deze zaak, waarop de rechter de zaak heeft uitgesteld tot 13 oktober 2014.
De Ludovic Trarieux mensenrechtenprijs
De prijs is een initiatief van de Union Internationale des Avocats(UIA), het European Bar Human Rights Institute (IDHAE) en verschillende Europese nationale en lokale advocatenordes en wordt toegekend aan "een advocaat, ongeacht nationaliteit of Bar, die in zijn carrière heeft geïllustreerd, door zijn werkzaamheden of zijn lijden, de mensenrechten te verdedigingen, de rechten van verdediging te bevorderen, de suprematie van het recht te bevorderen en de  strijd tegen racisme en intolerantie in welke vorm dan ook te voeren". Eerdere prijswinnaars zijn onder andere Muharrem Erbey uit Turkije, Karinna Moskalenko uit Rusland en Beatrice Mtetwa uit Zimbabwe.