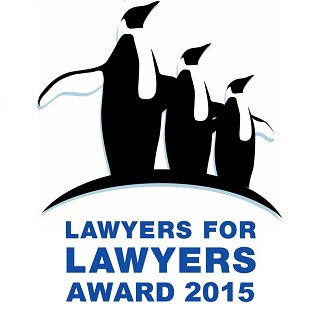 12 mei 2015
Lawyers for Lawyers Seminar
L4L nodigt u uit voor het seminar:
"Lawyers are not their clients"
+
Uitreiking van de L4L-Award 2015
De Basic Principles on the Role of Lawyers bestaan 25 jaar; reden om L4L's tweejaarlijkse seminar daaraan te wijden. Een van Nederland's grootste mensenrechten-promotors, Professor Cees Flinterman, levert de key-note speech. Verder spreekt Mr. Cees Korvinus over zijn vermeende politieke arrestatie begin jaren '80 en nemen vakbroeders/-zusters uit Turkije, Kameroen en Colombia deel aan de discussie. U bent van harte uitgenodigd om dit event bij te wonen. Wij adviseren het seminar op 2 PO-punten te waarderen!
Klik hier om u aan te melden en klik hier voor het uitgebreide programma!
---
Datum:    29 mei 2015
Tijd:          13:00 – 17.40
Plaats:     NautaDutilh, Strawinskylaan 1999, Amsterdam
---
Award ceremony 2015
De Lawyers for Lawyers Award wordt uitgereikt aan een advocaat of groep advocaten die zich op uitzonderlijke wijze inspannen om de rechtsstaat en mensenrechten te bevorderen en vanwege dit werk zijn bedreigd. Jorge Molano, een Colombiaanse mensenrechtenadvocaat, zal de Lawyers for Lawyers Award 2015 op 29 mei in ontvangst nemen.