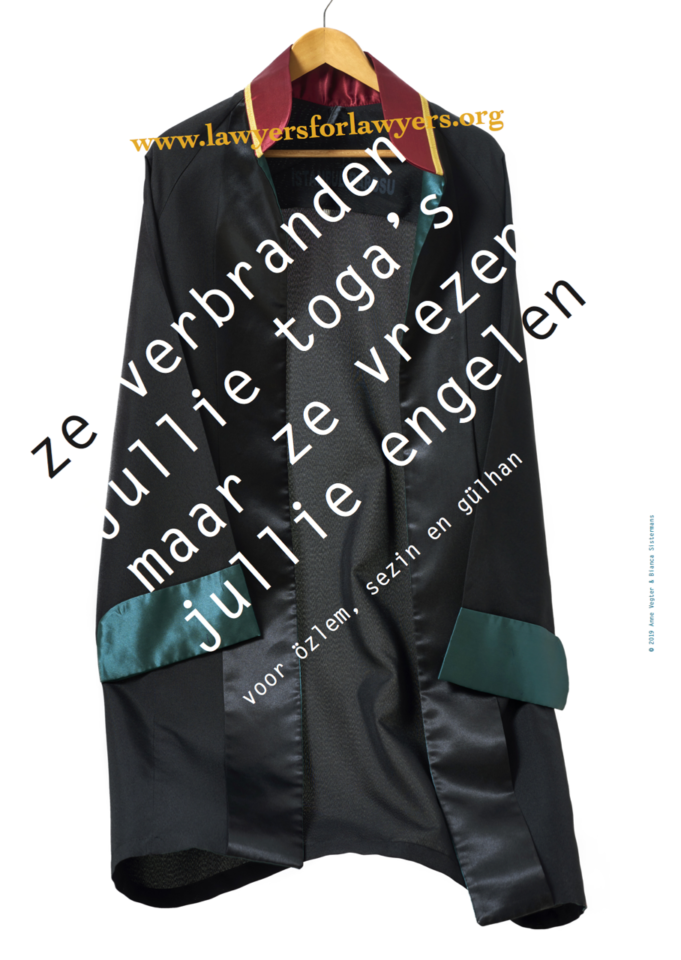 4 april 2019
Özlem, Sezin, Gülhan
In november 2018 reisden Anne Vegter, voormalig Dichter des Vaderlands, en fotografe Biance Sistermans naar Istanbul. Beiden maakten deel uit van een internationale groep proceswaarnemers op uitnodiging van Lawyers for Lawyers.
Anne Vegter schreef een gericht ter ondersteuning van drie vervolgde Turkse advocates. Bianca Sistermans maakte zwart-wit portretten van de drie advocaten. En samen maakten ze een beeltenis van een Turkse toga met daarop dichtregels van Anne Vegter ('ze verbranden jullie toga's, maar ze vrezen jullie engelen'). Lees hier een interview met Anne Vegter en Bianca Sistermans.
Özlem, Sezin, Gülhan
ze kunnen jullie handen boeien maar ze kunnen jullie harten niet kloppen
ze kunnen jullie woorden verdraaien maar ze kunnen jullie bloed niet drinken
ze kunnen jullie bloed wel drinken maar ze kunnen jullie vlees niet smaken
ze kunnen jullie spiegels breken maar ze kunnen jullie geheugen niet wissen
ze kunnen jullie toga's verbranden maar ze vrezen jullie engelen
ze kunnen de getuigen maskeren maar ze kunnen de leugens niet schikken
ze kunnen de bomen kappen maar ze kunnen de schaduwen niet zien
ze kunnen de waterput eren maar ze kunnen de regen niet bevelen
ze kunnen de tralies zekeren maar ze kunnen de stemmen niet dempen
ze kunnen jullie toga's verbranden maar ze vrezen jullie engelen
ze kunnen jullie stad barricaderen maar kunnen de stenen niet splijten
ze kunnen jullie zusters scheiden maar niet hun ineengevouwen handen
ze kunnen jullie verdediging verwerpen maar niet het geduld van de pijn
ze kunnen Istanbul regeren maar niet de meeuwen boven Marmara
ze kunnen jullie toga's verbranden maar de engelen zullen spreken
(Anne Vegter, 2019)
Anne Vegter
Anne Vegter (Delfzijl, 31 december 1958) is dichteres, proza-, toneel- en kinderboekenschrijfster.
Haar werk werd onder meer bekroond met de Woutertje Pieterse Prijs, ze werd genomineerd voor de AKO-literatuurprijs en in 2004 ontving zij voor haar gehele oeuvre de Anna Blaman Prijs. Het jaar daarop was Vegter samen met Antoine Uitdehaag en Anna Enquist laureate van de Taalunie Toneelschrijfprijs. In januari 2012 won Anne de Awater Poëzieprijs. Van 2013 tot 2017 was zij Dichter des Vaderlands. In 2015 werd Anne benoemd tot lid van de Akademie van Kunsten.
Bianca Sistermans
Bianca Sistermans (Heerlen, 3 april 1969) behaalde haar Master of Fine Arts aan de Akademie voor Kunst en Vormgeving  St. Joost in Breda. Haar werk werd getoond tijdens vele kunstmanifestaties. Publicaties van haar projecten verschenen in landelijke dagbladen. Ze heeft verschillende boeken op haar naam, vaak als co-productie met schrijvers of dichters. Zoals Dichter van Dienst, De eenzame uitvaart, Alledaagse Ergernissen, Hier besta ik en Mijn moeder zei nog, pas je wel op!